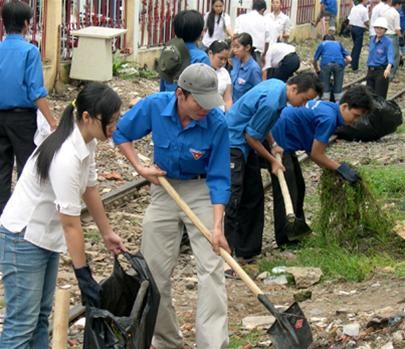 Volunteer students clear streets in Ho Chi Minh City
The 13th Green Summer Campaign, scheduled for one month from mid July to mid Ausgust, will be launched at Phu Tho sports stadium. The campaign will be launched in 24 districts in Ho Chi Minh City, 13 provinces, 15 schools and 2 provinces in Laos.
Up to 55,000 volunteers will join the one-month event, says a member of the organizing board. These volunteers will work alongside with local youth in social activities and programs for the underprivileged in the locality.
The campaign sets the target of cleaning up over seven kilometers of the Tan Hoa – Lo Gom canal, the city level project, in 10 days. Up to 2,000 volunteers will be mobilized for the project.
Reportedly, students from many universities in HCMC and villagers will build up to 100 houses and 50 bridges in remote areas. Learners from HCMC Medical University are called into providing free health examination for over 20,000 low-income patients.
The city students will assist over 10,000 young people in getting access to information technology and provide charitable classes to poor children.
In addition, the campaign will be expanded to two provinces in Laos, where thousands of rubber trees would be planted in an area of 10,000 ha. Furthermore, Vietnamese youngsters will give medicines and free healthcare services to people in this neighboring country.
Not only Vietnamese but also students from Korea, the US, France, Singapore will join the campaign.