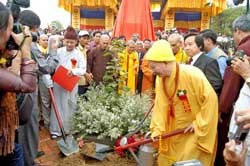 Buddhist activities are very popular in Viet Nam
A ceremony to introduce Buddhism Preachers' Group was held by the Department of Propagation, Ho Chi Minh City Buddhism Association on April 2, 2006.

The group, including 86 monks, superior monks, nuns and venerable bonzes with university degrees, is tasked with teaching and preaching in the fields of Buddhism prayers and norms at the Ho Chi Minh City-based pagodas.

The establishment and operation of the group will facilitate the activities of the clergy and Buddhists.