Ho Chi Minh City should pay attention to long term sustainable development and rethink projects bringing economic benefits but negatively impacting the living quality of citizens, said chairwoman of the HCMC People's Council Nguyen Thi Quyet Tam yesterday.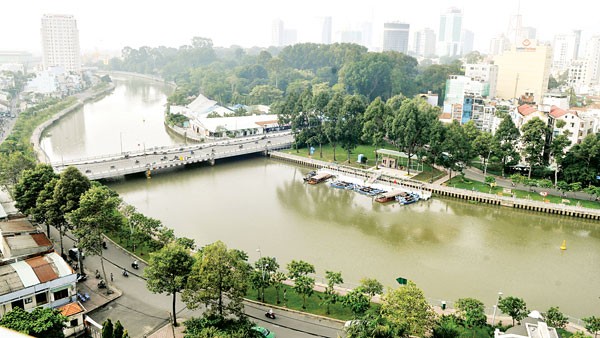 Nhieu Loc-Thi Nghe Canal has been cleaned up, contributing in improving the living environment for HCMC citizens (Photo: SGGP)
Ms. Tam was speaking in response to council members' queries about the situation in which buildings have been developed close together in the center of the city worsening traffic jam at the 3rd session of the 9th People's Council.
The city should not please investors by permitting them to develop many buildings, increasing land use coefficient, population density and traffic jam, she said.
At the session, many delegates questioned director of the Department of Construction Tran Trong Tuan about construction and management in this field.
Ms. To Thi Bich Chau asked if the department has counted traffic jam while licensing buildings inner the city.
After district inspector forces were merged into the department's inspectorate, the process of receiving and handling citizens' information about construction problems have been slower than before. In stead of immediately solving the issues right after acknowledging, districts now receive reports from wards before transferring them to the Construction Department, she said.
Mr. Tuan said that planning norms on construction density, land use coefficient, population and the storey of buildings have been assessed and approved synchronously with technical and social infrastructures including traffic, electricity, water and school.
However that is theory. In fact housing projects have been developed before technical and social infrastructures while the process ought to have been in a reverse order, he added.
 
M. Tuan admitted the late handling of some violations pleading cross investigations by agencies.
Inspectors have mainly worked on the construction site and directly contact with investors while the community's supervision has been limited so it has been difficult to spot violations. This is a difficulty and also a problem now, he said.
Reporting the current state in which inspectors examine the construction site of a single story house for three to four times, delegate Tran Thanh Tri questioned Mr. Tuan that how many times the inspectors are permitted to check up a housing work of private households.
The director said that according the department's process, the inspectors can conduct three inspections to a house. He promised to immediately publicize the process for citizens to be aware of and supervise.
Another issue that delegates complained at the session was that many projects have been approved but land withdrawal decisions have not been made, causing citizens unable to get licenses to build or upgrade their houses for a long time.
Mr. Tuan said that the stagnancy has been caused by new regulations of the Construction Law.
Delegate Nguyen Nhu Khue asked Mr. Tuan to specify how the stagnancy is, the decisive factor here is planning or construction and how the Construction Department has worked with other agencies to find a common voice and solution to protect the right of citizens.
Director Tran Trong Tuan said that the department would examine and specifically answer Mr. Khue's queries later.
In addition, Mr. Khue made another question about malformed residential areas which have been created from the shortage of traffic and drainage connectivity.
Mr. Tuan said that traffic system has been built with state funds while housing works have been developed with non-state capital. In principle, they must be connected synchronously.
At first, the department will work out the situation at some specific areas. In long term, housing development must associate technical infrastructure system including traffic and drainage works. Houses should not been built in areas where infrastructures have not been completed.
According to delegates, investors of many apartment blocks have built the works not in accordance with licenses causing difficulties for dwellers to get house ownership certificates.
Mr. Tuan said that the department will work with authorized agencies to ensure the customers' rights and grant them the certificates as soon as possible instead of waiting until investors remedy their violations to do so.
Besides, the department will require investors to repair apartment buildings according to designs or permit them to change the designs if relevant agencies agree, he added.

Related article:
Traffic jam, bus subsidization on spots of HCMC council session