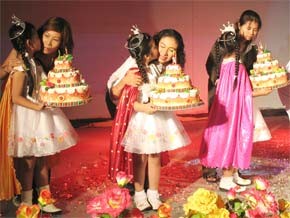 Mothers and daughters together at Hapbi Castle. The daughters are the ones holding cakes (Photo: Tuong Thuy)
Hapbi Castle is a new function room in Ho Chi Minh City primarily intended for children's parties for birthdays, Christmas, the Mid-Autumn Festival and such ("Hapbi" is short for "Happy Birthday"), and they also run weekend seminars where parents and prospective parents can learn more about rearing children.
The Sinh Nhat Company spent VND5.5 billion (US$343,000) setting up and outfitting the 2,000-square-meter function hall, which looks a bit like a scaled-down Disneyland and has differently themed sections with lots of color.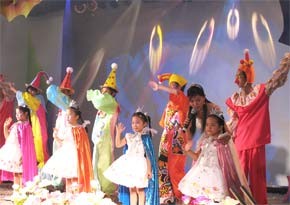 Clowns, colors and crinoline at Hapbi Castle (Photo: Tuong Thuy)
At the official inauguration on Tuesday, Sinh Nhat director Nguyen Thuy Duong said Hapbi Castle's target market was kids aged between two and twelve but any age would do.

Hapbi Castle produces characters to order. For example, angels will come along and pretend to grant wishes, or a prince or princess will appear if that's what the kiddies or their parents want.  
Ms. Duong claims her company is the first to "professionally provide services of this kind – children's parties with fun and games".
Hapbi Castle can be found at 285/C145bis Cach Mang Thang Tam Street, District 10. The phone number is (84-8) 862 8628.