Deputy chairwoman of Ho Chi Minh City People's Committee Nguyen Thi Thu said at a meeting with an inspection team from the National Assembly on December 15 that city administrators will issue harsh penalties on businesses which can not provide certificates of origin of food.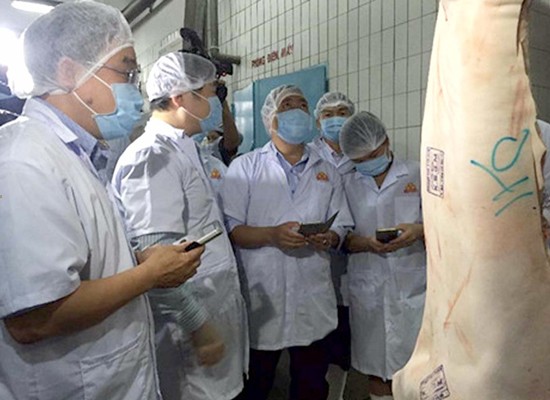 Members of the National Assembly delegation find out how to trace back the origin of pork at Vissan Company (Photo: SGGP)
Ms. Thu said that currently, food additives are sold in the same store with industrial chemicals due to loose regulation. Accordingly she proposed the government amending the two kinds should be sold separately.

Speaking at the meeting, Chairman of the NA's Committee for Science, Technology and Environment Phan Xuan Dung highly praised HCMC to make concerted efforts in managing food safety adding that HCMC is one of cities to perform well management of food safety and has applied technological advances in controlling food safety including using telephone software to trace back the origin of pork.

Chairman Dung noticed HCMC leaders to pay attention to the use of chemicals in husbandry complaining that the city has not issued severe penalties on violators. He proposed a closer cooperation between HCMC and other provinces to build a food safety chain.

As per the municipal People's Committee from 2011 to November, 2016, the Department of Plan Protection has taken 4,186 vegetable samples from farms to test the pesticide residues and discovered five of them ( or accounting for 0,38 percent ) having the pesticide content exceeding the limit. Yet inspectors detected 38 of 3,007 samples taken from three wholesale markets in districts Hoc Mon, Binh Dien, Thu Duc to have high pesticide content than regulated.

The Department of Animal Health asked pig farm to pledge not to use banned substance during breeding. Inspectors reported that in 2011, the rate of farmers using banned chemicals in husbandry was 7.89 percent of total samples, in 2015 it reduced to 5.77 percent and in 2016 no case was discovered.

Inspectors called on slaughter houses to check the origin of poultry. From 2011 to November, 2016, the Department has checked 1,015 batches of pig detecting 99 batches to have residues of chemical.

Along with strengthen inspection, HCMC piloted inspection food safety in districts and wards and at first it has gained positive achievement. The City's People's Committee has approved the project to develop growing safe veggies as per VietGAP in outlying districts since 2011.
So far, the city has grown safe veggies in 741.3 hectare with 2,100 participated households. Particularly, HCMC is the first city in the country to have a chain of food safety and has over 400 stores to sell safe agricultural produces.

Deputy Head of the Department of Industry and Trade Nguyen Ngoc Hoa said that from December 16, customers can use software in their smart phones to trace back the origin of pork in 346 spots including supermarkets, convenience stores...