The Ho Chi Minh City People's Committee has petitioned the Ministry of Natural Resources and Environment to increase penalties for businesses that pollute the environment.
Enterprises that knowingly contaminate the environment should face stiff fines and have their electricity and water cut off, the Committee said.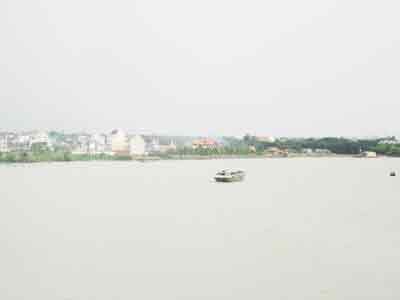 Household and industrial wastewater has caused extreme pollution in the Sai Gon River. City leaders are now mulling severe penalties for businesses found polluting the environment. (Photo: U. Phuong)
The city's Environment Protection Department said household wastewater and industrial park complexes along Ba Bep Canal are the cause of increasing water pollution in HCM City.
The Sai Gon River is extremely contaminated due to untreated wastewater from the Tan Phu Trung Industrial Zone, Phuoc Hiep dumping ground, residential quarters, and animal breeding farms in districts Cu Chi and Hoc Mon, as well as southern Binh Duong Province.

The effluent then empties into the Tra and Ba Hong canals, and the Thi Tinh River.
These canals are just 14 kilometers from the Tan Hiep Water Plant's pumping station that supplies water to HCM City. Water quality is therefore reduced with the density of many harmful chemicals increasing up to five times.
The city's Department of Natural Resources and Environment (DoNRE) has increased supervision of 34 businesses and forced several chronic polluters to suspend operations. In addition, it has ordered factories in Tan Quy, Tan Phu Trung, Quang Trung and Tan Thoi Hiep industrial complexes to build wastewater treatment systems.
The department is now considering suspending operation licenses of enterprises that discharge wastewater into Sai Gon River.
City leaders have also created favorable conditions for farmers to borrow capital to apply clean farming technology and construct treatment discharge systems.
The city is cooperating closely with the southern provinces of Tay Ninh and Binh Duong to force factories to treat wastewater before releasing it into the Sai Gon River.
Officials say in the long term, the city will not grant operation licenses to businesses involved in the unregulated production of chemicals, rubber, food, and paper. There are also plans to eventually remove the water pumping station to the riverhead or employ advanced technology to meet the city's needs.
DoNRE's Deputy Director Nguyen Van Phuoc said standards for wastewater need to be improved. His department has now completed a system to analyze river water, he added.
DoNRE will increase inspection of factories in Tan Quy and Tan Phu Trung industrial complexes and impose harsh penalties for those found violating regulations, said Phuoc.

Related article:
River supplying water to HCMC increasingly polluted: Officials