Ho Chi Minh City is planning some major events to celebrate Tet (the lunar New Year) in February, Nguyen Thanh Tai, Deputy Chairman of the city People's Committee, said.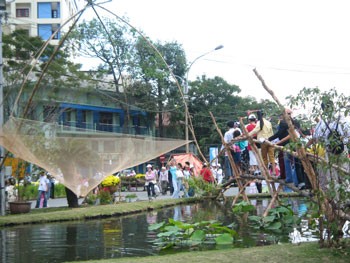 Nguyen Hue Flower Street is an anual event that has become highly popular in Ho Chi Minh City on Tet.  (Photo:KK)
Nguyen Hue Flower Street, an annual event that has become highly popular and themed Xuan binh minh (The dawn of Spring) this time, will be held from February 11 to 16. The New Year falls on the 14th this year.

The flower show's various sections will be named The Sun, Loving Spring, Convergence Of Sunrise, The Power Of Solidarity, A Corner Of The Homeland, and Heading Towards The 1000th Anniversary of Thang Long-Hanoi.

A traditional music performance and folk games will be held on Le Loi Boulevard on the closing day.

There will be a Banh Tet (cylindrical glutinous rice cake)  festival on February 9 and 10 which will feature a competition to make the cake.

The winners will have the honor of making cakes for the Banh Tet ceremonies at the Hung Kings Temple in District 9 and Ton Duc Thang Museum in District 1. The kings are the mythical founders of the nation.

Also on the occasion 10,000 cakes will be gifted to poor families and disadvantaged children in.
Fireworks shows will be held at seven places around the city and broadcast live on Ho Chi Minh Television on New Year's Eve.

The "lighting the streets" program will see some main boulevards like Nguyen Hue, Le Loi, Dong Khoi, and Le Duan decorated with thousands of colorful lights from February 2 to 21.

Offices and shops located on the festival streets will decorate the front of their buildings from February 11 to 16.