Ho Chi Minh City leaders have been visiting poor people in the city and the neighboring province of Tay Ninh and hospitals and charity centers ahead of Tet (the lunar New Year).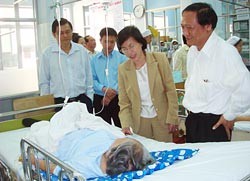 Pham Phuong Thao, chairwoman of HCM City People's Council, and other leaders visit a patient at the General Hospital in Cu Chi District January 12. (Photo: SGGP)
A delegation led by chairwoman of the People's Council and deputy secretary of the city Party Committee, Pham Phuong Thao, arrived in Tay Ninh January 13 to greet the Party Committee, People's Council, and People's Committee.
"HCM City has been always willing to assist Tay Ninh and I hope the cooperation would continue," chairman of the province People's Committee Nguyen Van Nen said.
Ms Thao assured him that HCM City would continue to cooperate with the province in many areas.
The same day, she visited the General Hospital in Cu Chi District and wished patients and staff a happy New Year.
She then visited a tenement in the Nhi Xuan industrial area belonging to the HCM City Youth Volunteer Force where around 250 workers reside after undergoing rehabilitation for drug addiction.
On January 13 another city delegation led by Nguyen Van Dua, permanent deputy secretary of the City Party Committee greeted and gave gifts to staff at Thi Nghe center for disabled and orphaned children in Binh Thanh District. The center has 412 children, most of them with cerebral palsy.
The delegation also called on five poor families living in District 9.
Phan Xuan Bien, chief of the city Party Committee's Department of Propaganda and Training , visited and gave gifts worth VND400,000 each to several poor families in District 3.
The city's Committee on Social Mobilization for the Poor and Ha Tien 1 Cement Joint Stock Company gave away 200 gifts each worth VND200,000 and a ton of rice to poor families in District 9.
The HCM City Farmers Association gifted 823 television sets to poor farmers in Cu Chi and Hoc Mon Districts.
Officials from Vietnam Women's Union of HCM City called on poor child patients in Nhi Dong 1 Hospital (Children Hospital) and gave presents to 200 of them.
They also gave 200 gifts to the Blind Association of HCM City and poor members of the women's union.