The city's Department of Const-ruction this week will offer guidance to the owners of 11 old houses in HCM City's Binh Thanh District that are beginning to lean to one side and about to collapse
.
After an inspection last week on 11 of the houses in wards 25 and 26, Nguyen Van Hiep, deputy director of the Construction Department, said that the houses must be upgraded or demolished to ensure the safety of people and protect nearby property.
Hiep said the department would ask the house owners to consult construction experts or agencies to seek proper solutions, and report to concerned agencies before they begin upgrading or demolishing the houses.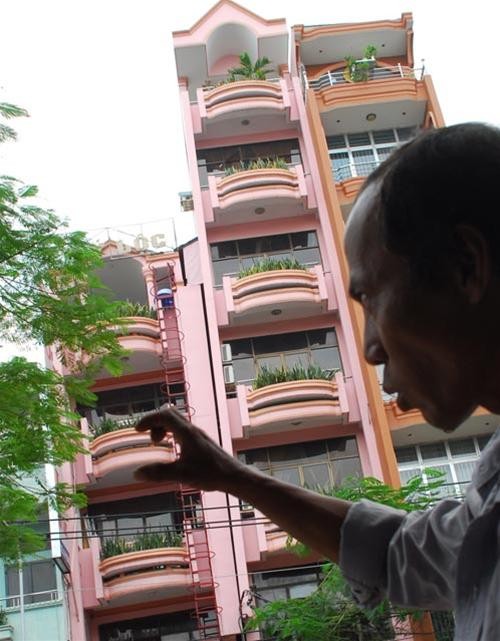 The leaning house at 190 Dinh Bo Linh street Binh Thanh district
"What the owners must do now is to take prompt and proper action on the houses," Hiep said.
Under the depart-ment's guidance, houses found to be tilting slightly must be upgraded and be under close scrutiny, while any houses found to be leaning seriously and show signs of collapse must be demolished partly or entirely, he noted.
Of the 11 inspected houses, the three-storey house located at 726A Xo Viet Nghe Tinh Street, Ward 25 is the most seriously leaning house.
It is apparently leaning against the house on its left and about a metre away from it. Its floor is also severely cracked.
The local authority said the leaning house, which has badly affected the house next door, must be demolished as soon as possible.
According to Hoang Song Ha, vice-chairman of Binh Thanh District People's Committee, the local authority has asked the owner of this house to work with the agency to seek solutions, but the owners still have taken no action.
According to the Construction Department, Binh Thanh District has nearly 100 leaning houses, the highest number of leaning houses in the city, 11 of which are about to collapse.
On March 31, a five-storey building in Ha Noi's Dong Da District collapsed into rubble, which raised concerns over the safety of many older houses in major cities in the country.