Members of the Ho Chi Minh City People's Council at the Tuesday opening day of the three-day session complained about poor urban management, problems in land zoning and compensations to resettle people affected by projects.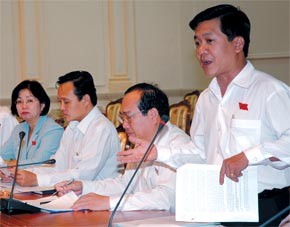 Councilors discuss on July 11. (Photo: SGGP)
Mr. Nguyen Minh Hoang, chief of the council's Economic and Budget Board, mentioned poor land zoning and infrastructure development problems.
Mr. Tran Thanh Long, president of the Viet Nam Fatherland Front Committee of Ho Chi Minh City, said that zoning plans, including planned roads, were not publicized in time. New slum areas have appeared, like those in Binh Hung Commune of Binh Chanh District.
Councilor Pham Minh Tri said it takes lots of time for the Department of Zoning and Architecture to approve construction plans, and not many of these plans have been approved, so many have been suspended. 
Councilor Pham Nhu Ai gave an example for the suspended plans, saying that many locals in Go Vap District are unable to rebuild their houses
Councilor Nguyen An Binh said, "I completely agree that we should make no mistakes in adjusting the overall zoning map for the year 2025 this time."
Councilor Nguyen Van Trung said, "Close attention needs to be paid to areas under urbanization. We will go slowly but make sure that things will go right.
Councilor Le Nguyen Minh Quang said the overall zoning map must ensure Ho Chi Minh City to be a big city in the region.
Mr. Nguyen Trong Hoa, director of the Department of Zoning and Architecture, said the adjustment of the zoning map will make sure that Ho Chi Minh City would be a hub for multinationals.
Ho Chi Minh City Vice Chairman Nguyen Van Dua said solutions to the suspended plans would be carrying out certain residential projects, adjusting the zoning plans, and limiting the widening of downtown streets. He said an architecture research center would be set up for the city.
Problems in Resettlement
Besides suspended plans, people's petitions and complaints focus on resettlement of inhabitants affected by projects.
Councilor Duong Van Nhan said thousands of households have not been resettled for five or six years. He said the affected people want compensations paid for their land to be close to the market price at the time their land was designated to projects.
Councilor Phan Thanh Quang's example is that compensation for the affected people is VND200,000-250,000 per square meter of land, while the auction price is VND2.5 million per square meter.
Councilor Duong Minh Quang said with the compensations, the affected people fail to afford to buy a new piece of land to build a house.
City Vice Chairman Nguyen Van Dua said the city authority would make the compensations close to the market price. The Ho Chi Minh City People's Committee proposes that the People's Committee allow District chairpersons to make the compensations close to the market price, and the adjusted compensations would be announced on January 1 every year.
Council chairwoman Pham Phuong Thao presides over the three-day council session. The participants include Mr. Le Thanh Hai, Politburo member and Ho Chi Minh City Party chief, and Mr. Le Hoang Quan, standing deputy Party chief.