Ho Chi Minh City's consumer price index (CPI) decreased by 0.42 percent in December compared with last month, according to the city's Statistic Department.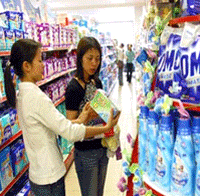 A consumer buys goods at a supermarket
This is the third consecutive month that HCM City's CPI has dropped.
The annual CPI rose by 18.08 percent, an average increase of 1.38 percent per month.
The price of construction materials dropped by 0.94 percent followed by a decrease of 0.01 percent in transport and health services.
Postal service dropped by 6.96 percent with the largest decrease of 12 percent in the price oil and gas.
The price of steel continues its drop and is now half of that of record prices in July 2007.
The price of gold also dropped 0.6 percent in December. The Vietnamese dong rose 1.68 percent against the US dollar.
However, food prices increased by 0.35 percent, drinks and tobacco increased by 0.76 percent.
Tourist services and entertainment increased by 2.97 percent.
Overall the price of commodities has decreased, according to Ho Chi Minh City People's Committee. It pointed to the price of consumer goods and electronics, which continue in a downward trend.
In comparison, the General Statistics Office said the CPI of Hanoi decreased by 1.3 percent in December.
HCM City authorities have asked relevant departments to ensure enough goods are available for Tet. In addition, they have requested strengthened inspection of market and food hygiene.