When new regulations on personal income came into force January 1 HCM City Department of Taxation only managed to process 500,000 personal tax codes, 'Tax Identification Numbers' (TIN), 25 percent of taxpayers affected by the new law.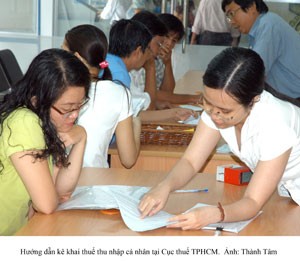 A tax offical helps customers declare income for TIN (Photo: Thanh Tam/ SGGP)
The Department reports most businesses in the city have finished registration to receive tax codes for their employees.
Meanwhile people without a TIN must pay tax of 20 percent, those with a TIN will pay 10 percent. However, the department says that the charge will be applied only infrequent and non-contractual workers.
Foreigners, who work more than six months, will receive a rebate if they do not pass the annual threshold of VND96 million ($5,500).
Ha Noi's Department of Tax has been inundated with applications for TIN over recent days. The Department was expected to process 1.5 million codes but has been unable to finish before regulations came into effect.
The deadline for TIN registration in Ha Noi has been extended until the end of January.