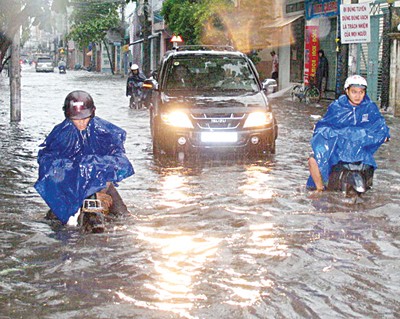 Pham Phu Thu Street in Tan Binh District at 9 am on May 25 (Photo: SGGP)

A heavy downpour lasting four hours inundated Ho Chi Minh City on May 25, causing flooding and traffic jams in many parts of the city.
The waters entered houses in Districts 5, 6, and 11 just half of an hour after it started raining. Many roads were under 20-30 centimeters of water, with some places submerged even deeper.
Fences put up to barricade work sites on Nguyen Van Luong Street collapsed in the rain. Many vehicles took a tumble because of potholes that were covered by the water.
Many parts of Binh Tan, Binh Thanh, and Phu Nhuan Districts remained flooded for several hours after the rain stopped, leading to massive traffic jams.
Though billions of dong have been spent on the city's sewage system, flooding seems to be a recurring problem since the works are being carried out too slowly.
Besides, the system has been affected by road works that have impaired its ability to drain water.