With HCM City attracting an increasing number of well-heeled foreign tourists, many luxury hotels are planning to upgrade their facilities and improve human resources.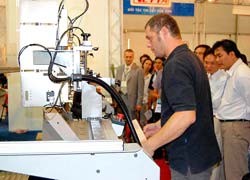 A foreign tourist at an exhibition in HCM city
The number of affluent visitors is on the rise thanks to the construction of the trans-Asia highway, upgrading of many border gates in the Mekong Delta and southeastern region, and the efficiency of the tourism industry's marketing of caravan tours.

However, the director of the city's Department of Tourism Dong Thi Kim Vui, has warned about the serious shortage of high-class rooms, pointing out that many tourists canceled their visits because of the unavailability of luxurious rooms.

Explaining the boom in the arrival of wealthy foreigners, Nguyen Huu Tho, general director of giant tourism company Saigontourist, said they came not only for traveling, but also to attend trade promotion programs and exhibitions.

The recent furniture and handicrafts fair held at the Phu Tho Gymnasium, for instance, had attracted a large number of foreign entrepreneurs staying in luxury hotels, he said.

The popularity of caravan tours was another reason for the rising numbers of wealthy tourists, he said. So far this year, 80,000 visitors had come overland in convoys, he added.

To attract more caravan tours, Deputy PM Nguyen Thien Nhan recently directed authorities to support tourism companies that regularly organize such tours to ensure road safety.

Around 5 million visitors are predicted to come to HCM City through 2010, and there is growing concern that the tourism industry lacked the infrastructure to handle this influx.

Ms. Vui revealed that the city's Department of Tourism was speeding up the addition of 2000 luxury rooms so that they would be ready by the end of this year. But she admitted their progress was being held up due to problems with getting land.

Many of the city's large hotels are currently busy with improving infrastructure and facilities and training their staff.

Saigontourist is focusing on building new hotels to add a further 7,000 rooms by 2010.

But it is also making plans to develop human resources, providing training for employees working at its hotels like Rex, Majestic, Continental, Grand, and Kim Do.

These properties are set to be upgraded into five-star hotels.

For this, Saigontourist also plans to hire international hotel management companies to train staff.

To prepare for Rex's upgrade as a five-star hotel by the end of this year, Saigontourist has allowed the hotel to sign a US$200,000 contract with Singapore's Raffles Knowledge Private Limited for a nine-month consultancy and training program for its staff.