Ho Chi Minh City invested in 42 projects worth VND7.75 trillion (US$419 million) in Tien Giang Province in 2004-2009 through a socioeconomic cooperation program between the two localities.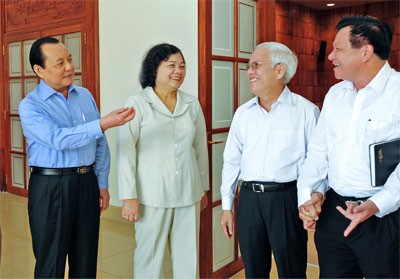 Ho Chi Minh City Party Committee Secretary Le Thanh Hai (L) and city Chairman Le Hoang Quan (3rd, L) speak with Tien Giang Province's leaders after the meeing on December 12
The figures were revealed at a meeting of the localities' leaders to review the implementation of the program on December 12. 

Tien Giang has attracted investment from many HCMC enterprises thanks to its agricultural potential, with 30 businesses investing in 215 hectares of aquaculture farms and 350 hectares of safe vegetable farms. The vegetable farms now provide the city with 10 tons of produce a day.

At present, the Mekong Delta province is an important supplier of safe fruits, vegetables and poultry to HCM City.

The city also invested in 22 industrial projects worth VND5.6 trillion, many of which proved highly valuable to Tien Giang such as the Dong Tam Water Supply Plant, Tan Huong Industrial Park and Viet Tien Garment factories. 

At the meeting, HCMC and Tien Giang officials signed a cooperation agreement for the period 2010-2015. 

Under the agreement, the city will develop many projects in Tien Giang in 2010, including the Tam Hiep and Binh Dong industrial complexes; and oil service, marine port and Soai Rap vessel industrial parks.  

The projects are estimated to cost VND5 trillion ($270 million) and provide 20,000 jobs.