Management of the media, improving journalists' skills, educating them in professional ethics, and protecting their legitimate interests are among the main issues discussed at a two-day congress of the HCM City Journalists' Association that wrapped up February 26.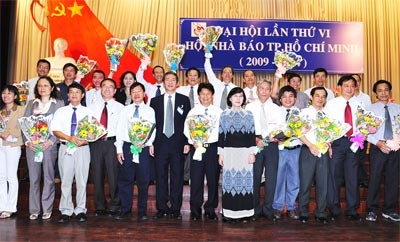 The new executive board of the HCM City Journalists' Association that was elected at the association's congress that ended February 26 (Photo: SGGP).
Around 250 delegates representing the association's 1,100 members attended the event.
Also present were Pham Phuong Thao, deputy secretary of the city Party Committee and chairwoman of the People's Council; Nguyen Thanh Tai, standing deputy chairman of the People's Committee; and Dinh The Huynh, chief editor of Nhan Dan (People) newspaper and chairman of the Vietnam Journalists' Association.
The media has closely followed social happenings, given a boost to patriotic movements, and has been in the vanguard of the fight against corruption, a report presented at the congress said.
The association has helped its members enhance their skills and social and political knowledge, it said.
But many participants agreed some newspapers have published untrue and incorrect information, hankered after sensational news, and failed to fulfill their role as a maker of public opinion.
A new executive board comprising 21 members was elected at the congress.
Ma Dieu Cuong, deputy director of HCM City Television, was elected chairman. He will be assisted by three deputies: Dang Xuan Dung, chief editor of Cong An Thanh Pho Ho Chi Minh (HCM City Police) newspaper; Nguyen Van Phung, currently standing deputy chairman of the association; and Huynh Dung Nhan, chief editor of Nghe Bao (Journalism) magazine.
The city media should continue to improve to fulfill its political tasks, mobilize public support for the city's socio-economic development, and integrate itself with the regional and international media, journalists said.
The city Party Committee hopes journalists have "keen eyes, clear hearts, and sharp pens," Ms. Thao said.
The media should ensure its operations dovetail with the Party's policies and views, complies with the law, and are efficient, she said.
The association should continue to encourage its members to take part in a campaign to "study and follow Ho Chi Minh's moral example," she added.
Mr. Huynh said: "The association should expand its operations to its grassroots units."
He stressed that it needs to closely coordinate with other agencies to protect the legitimate rights and interests of journalists.