HCM City's Department of Health has set up a hotline for the public to complain about food quality during Tet (Lunar New Year) as part of a campaign on food safety.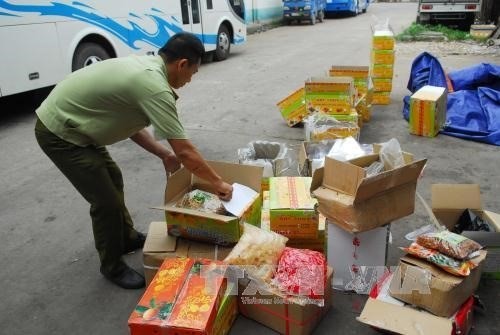 An official from HCM City's market management division inspects a confectionary producer in the city's District 6. (Photo: VNA)
Officials at the department's food safety and hygiene division will be on duty during the holiday and take calls at 08.39301714 about low-quality food and counterfeit goods and incidents of food poisoning, Ms. Nguyen Thi Huynh Mai, deputy head of the division, said.
Speaking at a programme called "Lang nghe va trao doi' (Hearing and Discussing) held by the city People's Council and HCM City Television (HTV) on January 8, she said during the campaign, department inspectors will focus on foods and foodstuffs commonly consumed during Tet such as confectionery, alcohol, fresh meat, fish, eggs, and vegetables.
Since demand for food and foodstuffs soar during the country's biggest holiday, inspections would be stepped up to prevent unsafe foods and counterfeit goods entering the market, she said.
Mr. Nguyen Van Bach, deputy head of the city market management division, said the public can call his office hotline (08.39256875) to report counterfeit goods and unsafe foods.
Ms. Truong Thi Anh, Vice Chairwoman of the People's Council, said authorities want to ensure that the quality of food consumed during the holiday is of good quality.
Companies taking part in the city's the price stabilisation programme have stockpiled sufficient quantities of goods to ensure prices remain steady before and after the New Year holiday, Ms. Nguyen Huynh Trang, deputy director of the city Department of Industry and Trade, said.
Many products such as fresh meat and poultry will see prices cut in the run-up to Tet, she said.
A Vissan Company spokesperson said that the company would supply 3,200 tonnes of fresh meat and 3,000 tonnes of processed foods to meet the surging demand during the New Year.
Vissan will cut the prices of pork five days before Tet, he said.
Ms. Pham Thi Huan, director of Ba Huan Co. Ltd., said in addition to its major product, fresh eggs, the company also plans to supply 500 tonnes of poultry.
Mr. Tran Vinh Tuyen, Vice Chairman of the city's People's Committee, said that with the positive feedback received on a new system to trace the origin of pork from the farms to the market, the city will also introduce similar systems for other fresh meats, eggs and vegetables.
With a new application dedicated to tracking the origins of products, the public can easily access safe products of high quality, he added.