A delegation of Ho Chi Minh City high ranking offcials led by secretary of the City Party Committee, Le Thanh Hai celebrated Lao people's Bunpimay traditional New Year festival during a visit from April 6-11.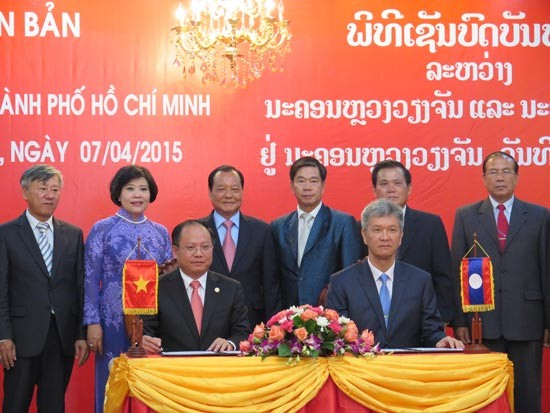 Deputy Chairman of the Ho Chi Minh City People's Committee, Tat Thanh Cang (L) and his Lao counterpart, Vientiane Vice Mayor Mr Somvandy Nathavong signed a cooperation agreement. (Photo: Sggp)

Vice chairwoman and deputy chairman of the Ho Chi Minh City People's Committee, Nguyen Thi Hong and Tat Thanh Cang, together with leaders of deprtaments and businesses were also among those attending the visit.
The delegation had a discusuion with Dr. Sinlavong Khoutphaythoune, Party Secretary and Mayor of Vientiane on April 7.
At their talks, the two leaders expressed pleasure at the recent comprehensive cooperation in various fields of the two cities.

Dr. Sinlavong Khoutphaythoune expressed thanks to Ho Chi Minh City authorities and people for the support to the Lao capital.

He hoped that the two sides will continue to share experience and enhance cooperation in fields, including agriculture, urban management, human resource training and tourism in the 2015-2020 period.

Mr. Le Thanh Hai affirmed that Ho Chi Minh City will boost cooperation with Laos in all fields, such as beef cattle breeding, fiancial management, human resource training, promoting culture and tourism, offering tourism schorlaships as well as fostering the cooperation and exchange of experience between departements and enterprises in both countries.

On this occasion, the delegation visited Mr. Phanhdouangchith Vongsa, Chairman of the Central Committee of the Lao Front for national reconstruction.

Secretary Hai also greeted the 40th anniversary of the National Day of Laos and 25 years of renewal under the Lao People's Revolutionary Party.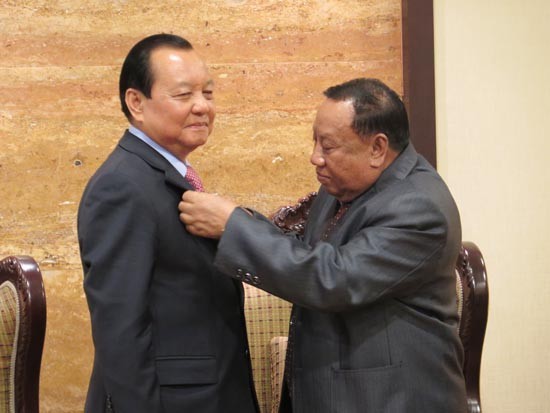 Mr. Phanhdouangchith Vongsa, Chairman of the Central Committee of the Lao Front for national reconstruction (R) confers a medal on marking the 60th anniversary of the founding of the Lao People's Revolutionary Party to Mr. Le Thanh Hai. (Photo: Sggp)