Ho Chi Minh City will hold several activities to mark the 126th birth anniversary of the late president Ho Chi Minh, which falls on May 19 (1890-2016).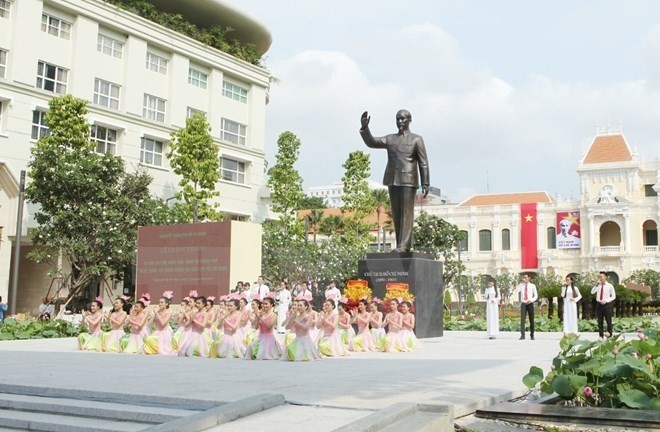 Ho Chi Minh Statue on Nguyen Hue street (Source: giaoduc.edu.vn)
Accordingly, a photo exhibition will open on Nguyen Hue and Dong Khoi streets on May 17 morning.
A ceremony will be held on May 18 to honour outstanding individuals and units in the campaign of studying and following the moral example of President Ho Chi Minh.
High-ranking officials of the municipal Party Committee, People's Council, People's Committee and Vietnam Fatherland Front chapter will offer incense and flower in tribute to the late president at the city branch of the Ho Chi Minh Museum, and the Ho Chi Minh Statue Park on May 19.
On the same day, several performing art activities to mark the late president's birthday will be organised in many places, including the September 23rd Prk and the Gia Dinh 2 Park.
Besides, a "Vietnam's Ao dai" fashion show entitled "Thanh pho Ao dai" (The City of long dress) and a lotus offering ceremony will be held on Nguyen Hue pedestrian street.
On the occasion, a tree planting event to commemorate the late president will also be held at the city's University of Economics and Law.