The pollution in Ho Chi Minh City has continued to worsen, despite some figures showing a slight improvement in some pollutants, an SGGP report showed recently.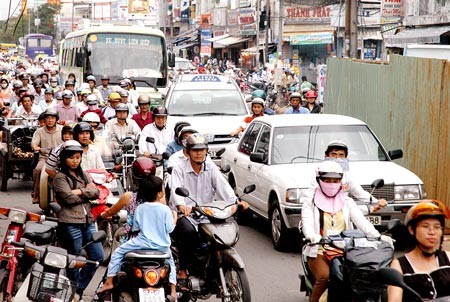 The increasing number of vehicles in the city is leading to worsening air quality. (Photo: SGGP)
Dust and garbage exceed regulations
According to figures, the city's air quality has worsened over the past year.
At environment monitoring stations on roadsides throughout the city, pollution was higher at major junctions and transport hubs.
The concentration of dust in the air has fallen, but it still exceeds acceptable limits.
At the biggest crossroads into the city, dust and noise concentration are always high and levels of nitrogen dioxide is increasing.
Dust concentration continues to exceed allowable limits in industrial areas, such as the area around Thu Duc Steel and Ha Tien Cement.
Air pollution is also bad in areas with large construction projects, including Truong Chinh-Tan Binh, Nam Ky Khoi Nghia Phu Nhuan and Thu Thiem bridge, District 1.
Besides air pollution, solid waste also causes environment pollution and is at an alarming level.
The percentage of solid waste collected and treated increased by 8.6 percent in 2006, 3.2 percent in 2007 and 3.7 percent in 2008.
The volume of garbage collected in the first four months of the year was more than 710,000 tons, nearly 50 percent of garbage collected in 2006.
The volume of daily household garbage created in city is around 6,400 tons and is forecast to increase to 7,000 – 7,500 tons per day by 2010 and 16,000 tons per day between 2011- 2020, said the city's Department of Nature and Environment.
To treat the volume of garbage, burying is the main option and is buried in landfill sites in Go Cat in Binh Tan District, with solid waste treatment complexes in Tay Bac in Cu Chi District and Da Phuoc in Binh Chanh District.
The city has paid special attention to diversify types of waste treatment and called for companies to invest in processing waste treatment.
As of now, the city has 11 projects in the pipeline, with several technologies planned, such as recycling, composting and creating energy from burning garbage. However, it is very difficult to deal with the large volumes of garbage.
City worried about water quality
City authorities are also worried about water quality, with the report showing river and canal water quality being very poor.
The source of surface water for the Saigon River was marked 'B standard,' according to a recent report on waste discharge into the Saigon River.
Concentrations of E. Coli exceeded permitted levels from 1.01 to 15.3 times.
Meanwhile, water quality, measured by water monitoring stations at water supply areas, failed to achieve A standard.
At Dong Nai river system, water quality from upstream Hoa An to downstream Cat Lai achieved A standard but DO concentration (dissolved oxygen) and amounts of lubricating oil was B standard and Coliform exceeded B quality standard from 2.3 to 50.2 times.
Currently, the city authorities have not yet had any affective scheme to protect the Saigon and Dong Nai rivers.
Water from rivers and canals in the suburbs is becoming more and more polluted, with the most serious concerns over rivers like Cai Xuan Truong stream, Nuoc Len canal, Cho Dem river areas and the Ben Cat and Ba Do canals.
The report also showed that groundwater failed to achieve quality standards, with the water becoming more acidic in many areas.
Concentration levels of nitrates in suburbs of the city were also high.