The Ho Chi Minh City Committee for Overseas Vietnamese has approached the city's National Assembly (NA) deputies to ask for permission to further facilitate overseas Vietnamese, aka Viet Kieu, in the city.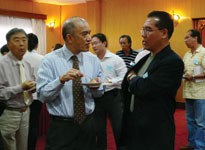 Viet Kieu at a gathering in Viet Nam
Mr. Nguyen Chon Trung, chief of the committee, made the proposal on Wednesday. He petitioned for a one-door mechanism for Viet Kieu which means that all administrative procedures are to be conveniently completed at only one location.
Other presented proposals were related to immigration, regulating visitors' stays, and house ownership. As well, the Viet Kieu science and technology club hopes to set up a center at the National University of Ho Chi Minh City for research and development, training consultancy, and transferring technology.
Ms. Pham Phuong Thao, chief of the city's group of NA deputies, said she would bring all the proposals to the NA Standing Committee.