Ho Chi Minh City installed hundreds of security cameras on Nguyen Hue, the city's first modern walking street, city police said on May 4.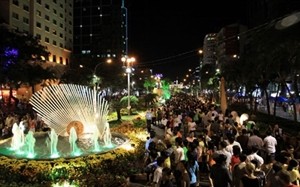 A view of Nguyen Hue Street, the first pedestrian street in HCM City (Photo: VNA)
The 60m-wide street was put into use late last month in District 1, Senior Police Officer Vu Si Quang said at a press conference, during which he reviewed the city's security efforts during the recent holiday.
The street comprises a 27m walking section and a 21m section for vehicles, which are prohibited at certain times of day. Hundreds of thousands of visitors – locals and foreigners – stroll down the square daily to admire its beauty.
Local authorities hold cultural activities on the street often – for example, the city's celebration of its 40th Reunification and May Day anniversaries. But the area's popularity with tourists draws scores of robbers and pickpockets.
Le Manh Linh of Tan Phu district, said his family used to walk down the street in the evening, and they witnessed petty crimes. Linh said it happened very suddenly, and many visitors lost their smartphones and wallets that way.
Local police said they were doing their best to ensure visitors' safety. Two suspects were arrested, and the police and security officials kept their eye on others.
Another HCM City senior police officer Vu Nhu Ha said he hoped the installed cameras would help police solve crimes more effectively.
Nguyen Hue street, which runs from Le Thanh Ton street to Ton Duc Thang street, was redone at a cost of 430 billion VND (nearly 20 million USD). It includes an artistic lighting system, two musical water fountains and trees selected carefully to beautify the area and provide shade.
HCM City Police statistics showed a total of 76 crimes occurred in the city during the six-day holiday from April 28 to May 3, a 4-crime decrease over the same period last year. The police solved 55 of the cases, or 72.3 percent.-VNA