Authorities of Ho Chi Minh City on March 9 worked with the Japanese company Toshin Development on a plan for building a underground trade centre in the downtown Ben Thanh area.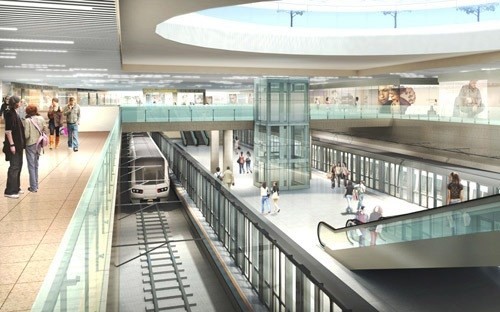 A 3D image of the Ben Thanh Terminal and underground trade centre (Source: VNEconomy)
The plan envisions a four-storey complex with a total area of 45,420 sq. metres spanning from the Ben Thanh Terminal to the Municipal Theatre Station on the Ben Thanh-Suoi Tien Metro line 1 now under construction.
More than 21,600 sq. metres of which are zoned off for public purposes including pedestrian streets and a square, and the remaining 16,850 sq. metres will be used for shopping areas, recreational services and support facilities.
The construction work, to be carried out from 2019 to 2024 is estimated to cost nearly 8.40 trillion VND (377.64 million USD), with more than half of the amount sourced from official development assistance (ODA), and the rest funded by the Japanese investors, and other sources.
Chairman and General Director of Toshin Development Yasuhiko Matsumoto said the project draws attention from the Japanese Government and agencies, as it can be said to be part of the Vietnam – Japan friendship and cooperative ties.
With the project, the company aims to develop a large-scale underground city in the Southeast Asian region, he said.
Vice Chairman of the municipal People's Committee Le Van Khoa said as this is the first underground trade complex in Vietnam, the city wants to ensure the socio-economic efficiency and safety of the project.
If realised, the facility is expected to create jobs for local labourers, improve local living conditions and infrastructure system, thus boosting the local socio-economic development, Khoa said.
Last year, the Japanese company and the Sai Gon Star IRC got the nod from the municipal authorities to conduct survey and build the plan for the underground trade centre.
According to Vice Chairman Khoa, the two companies have met the deadline in building the plans. The city will submit the plans to the Ministry of Planning and Investment and relevant agencies for evaluation in line with the law.