HCM City authorities will closely follow up the progress of Japanese ODA funded projects in the city, preventing any problems occurring in their development, said city's People's Committee Chairman Le Hoang Quan February 3.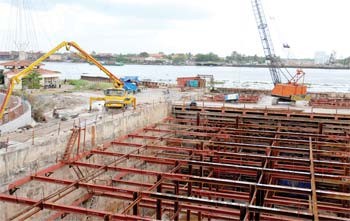 This photo, taken on Mar. 3, shows Thu Thiem tunnel under construction by the Saigon River. It is part of the Japanese-funded East-West Highway in HCM City. (Photo: SGGP)
He was speaking at a meeting with Koichi Aiboshi, envoy from the Japanese Embassy, and Tsuno Motonori, chief representative of the Japan International Cooperation Agency (JICA) in Vietnam.
The meeting focused on major projects using Japanese ODA, such as the East-West Highway, Water Environment Improvement, and Ben Thanh – Suoi Tien Metro.
The East-West Highway project will be complete in the first quarter of 2010, said Quan. The authorities have suggested Oriental Consultants – a subcontractor of the Pacific Consultants International (PCI) – replace PCI as the supervision consultant for the project.
Motonori said that he would help the city in this issue.  
Regarding the repair of four sections of the Thu Thiem tunnel, which is part of the project, the authorities have meet with relevant agencies and an independent Australian consulting company to seek technical solutions, said Quan.
The authorities have asked the project's management to complete the repair of these sections within the month.
Motonori said he appreciated the authorities' efforts in accelerating repairs. 
As for Ben Thanh – Suoi Tien metro project, a depot for the route has been built in District 9 and site clearance and compensation are being stepped up, with about 1,000 households subject to relocation.
However, the authorities may re-consider the actual investment capital for this project, since the initial capital was calculated in 2001, it no longer matches current conditions, Quan said, adding that he hoped the Japanese government would provide more funds.
He also said the city wants to set up metro links to the Eastern and Western bus stations. He called on the Japanese government to provide extra funds for these routes.
Motonori said he was in favor of the city's initiative and would report to his government for its consideration.
As regards the Water Environment Improvement project, Quan said the first wastewater treatment plant will undergo a trial run, and the transfer of technology and personnel training are underway, Quan said.
The city hoped the Japanese government would give assistance in this training, he added.