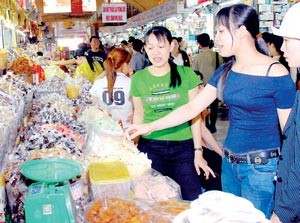 Shoppers at Ben Thanh Market in the heart of Ho Chi Minh City (Photo: SGGP)
Ho Chi Minh City, a southern economic hub of Vietnam, posted the average increase of the monthly consumer price index (CPI) this year at 0.62 percent while that of last year was 1.39 percent, the city's Statistics Office said.
The economic hub put this month's CPI growth at 1.19 percent, according to the Statistics Office.
Transportation and the sector of other commodities and service had the highest increase rates, respectively 2.62 percent and 1.78 percent.
Following were the group of beverages and cigarettes, increasing by 1.78 percent, and the group of housing, electricity, water, gas, building materials, which rose by 1.68 percent. A fact is purchase of building materials is going up while the Lunar New Year is coming.

Vegetables and fruit were among few sectors having CPI dropped by 2.34 and 0.54 percent, respectively while educational charges stayed stable.
Gold prices dropped slightly within the month following the global trend but kept rising by 13.24 percent compared with the previous month.