Ho Chi Minh City is determined to put an end to the publication of newspapers and magazines partly done by private organizations in a fresh move to enforce the Journalism Law, said a city journalism administrator.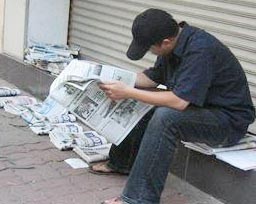 (Illustrated photo) A Vietnamese man reads a newspaper. HCMC will crack down on partly private-made newspapers and magazines.
Speaking at a journalism reviewing conference in the city on Thursday, Mr. Nguyen Tuan Viet, Deputy Director of the HCMC Department of Culture and Information, said many media organizations, especially those who make industry magazines, have "sold some pages to private organizations." Therefore, they have done what they like on those pages, he said.
Additionally, some centrally-administered media organizations operating in the southern hub that have breached the Journalism Law have not observed city authority's punishments because they insist that they are administered by the central government, said Mr. Viet.
Therefore, HCMC is determined to put an end to these newspapers and magazines, he said, adding that the city would ask the central government to make clear about authority of the national government and local administration in dealing with such infringements.
Also at the conference, held to review eight years' execution of the Journalism Law in the city, representatives of media organizations said they need more access to deeper information behind articles about corruption and many other sensitive issues. They also raised concerns about how the law would deal with blogs in the future.