To cope with the recent outbreaks of swine flu in some office buildings in the city, the HCMC Department of Heath has carried out measures to prevent and fight against the epidemic.
The department Saturday reported that another case of A/H1N1 was found. The infected person is an employee working at the office building Citilight Tower on 45 Vo Thi Sau Street, District 1.

Epidemic investigations revealed that the employee contracted the swine flu while he was in contact with another person who had previously been infected. The latter person works at Petro Vietnam Building on Le Duan Street, District 1.

Five others working in the same room with the infected employee are now being kept under supervision. Forty others working in the same company were also put under observation.

On the same day, a number of offices, businesses and public places in the city reportedly began to carry out self –prevention measures against the flu.

At Sapuwa, a mineral water company, staff was encouraged to wear facemasks while working and being in contact with customers.

Likewise, staff and students at Hoa Sen (Lotus) University were encouraged to wear masks at school to prevent themselves from being from infected with the flu.

Public servants at the People's Committees of Thu Duc, Tan Binh and Binh Thanh districts were also encouraged to wear facemasks at work.

At the Eastern Bus Station, which receives between 2,000 and 4,000 customers and passengers daily, employees were asked to wear facemasks. Antiseptic soaps and gels were put in public toilets available for every visitor as a precaution.

Nguyen Xuan Hai, director of Vietnam Big C Supermarkets, said that in effort to protect customers' health, they have set up a unit responsible for following up the development of the flu in the city and at the same time carrying out all necessary prevention measures in accordance with the health department's instructions.

To warn the city residents' of the rapid spread of the swine flu in the city, as well as raise their awareness of the importance of the preventing and fighting against the epidemic, thousands of volunteers and members of the HCMC Red Cross have distributed more than 50,000 leaflets about precautionary measures at residential quarters, schools, markets and supermarkets. They also worked as consultants.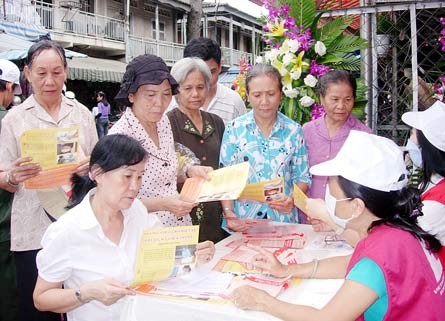 Members of HCMC Red Cross distribute leaflets and give advice to residents at Ho Thi Ky Flower Market, District 10
Dr Nguyen Van Chau, director of HCMC Department of Health, said that at present, the infected patients receiving treatment in hospitals are improving. No one has yet shown to be resistant to Tamiflu and no deaths have yet to be reported, with the country's total number of confirmed cases at 850, as of Friday.

To deal with the outbreak, following the department's instructions, many hospitals in different districts, especially those located at gateways to the city, have admitted A/H1N1 flu patients for treatment.

The HCMC Hospital for Tropical Diseases will deal with patients in severe condition or suffering respiratory distress syndrome, said Dr Chau.