This year's annual conference of the Southeast Asian Zoo Association (SEAZA) will take place in Ho Chi Minh City from September 11 to 13.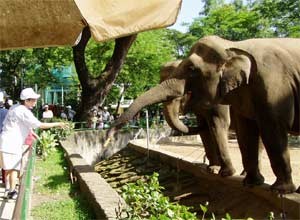 A visitor plays with an elephant in Sai Gon Zoo. (Photo: Tuong Thuy)
The meeting, organized by Sai Gon Zoo management board, will focus on how to further enhance cooperation among zoos in Southeast Asia and establish forums for SEAZA members.
About 150 delegates from 26 countries and territories will attend the conference.
Saigon Zoo, whose full name is Saigon Zoo and Botanical Garden, is a SEAZA member. It was first inaugurated in the second half of the 19th century and currently covers about 20 hectares in District 1.
Besides its cages for animals, including birds and over 120 species of animals, which are constantly increasing in number, Sai Gon Zoo has over 1,830 trees of 260 rare and valuable species, many of which are over 100 years old.
Saigon Zoo plans to open a night safari in a fresh move to lure more visitors to Viet Nam's oldest wildlife facility. The management plans to import and breed rare animals like panthers, tigers, and pheasants besides nocturnal and African animals.