The HCM City People's Council on Tuesday approved two proposals to increase road service fees for vehicles passing through toll stations on Ha Noi, Kinh Duong Vuong and Binh Trieu 2 highways from the first of July.
The fees would increase by 50 to 170 per cent with trucks subject to the highest rise. For example, a 40-feet-high container or 18-and-above-tonne truck would be charged VND80,000 (US$3.8) to pass a toll gate, instead of the current fee of VND30,000 ($1.4).
In its proposal, the People's Committee said the current level of toll fees on the three highways had been applied for a long period of time and were now lower than fees on other highways across the nation, as stipulated in a Ministry of Finance circular.
"If the Technical Infrastructure Company, which is responsible for collecting fees at these toll gates, doesn't raise its fees it wouldn't be able to finish fee collection in time as agreed in the contract with the People's Committee," the proposal said.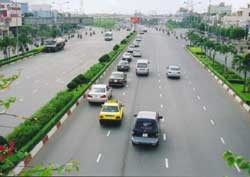 HCM City's Ha Noi Highway. Road service fees for vehicles passing through toll stations on the Ha Noi, Kinh Duong Vuong and Binh Trieu 2 highways are to increase from July 1
On the sidelines of the People's Council meeting on Tuesday, chairwoman of the People's Council Pham Phuong Thao said while authorities were aware of the impact the fee rise would have on people, the hike could not be delayed.
"The council has already deferred the increase at several previous meetings," said Thao.
General Secretary of the HCM City Cargo Transport Association Thai Van Chung said it wasn't unusual to propose adjusting the level of toll fees in order to shorten the payback period, but the question was "When is the right time to do this?"
Chung said that during this time of rampant inflation, the repercussions of the price hike would lead to further price rises in transportation and goods.
Chung also asked the Technical Infrastructure Company to clarify the legal status regarding the payback of collected fees at the Ha Noi and Kinh Duong Vuong toll gates.
In the latest petition sent to the People's Council dated on Tuesday, the association said the upgrade of Ha Noi and Kinh Duong Vuong highways had been funded by various projects, therefore, it was not reasonable to combine the toll fees on both highways into one contract.
In addition, the company hadn't made its revenue available so its premise would not be solid enough, the petition said.