Ho Chi Minh City needs to come up with new, breakthrough models and solutions to deservingly be a key driver of the national economy, said President Tran Dai Quang.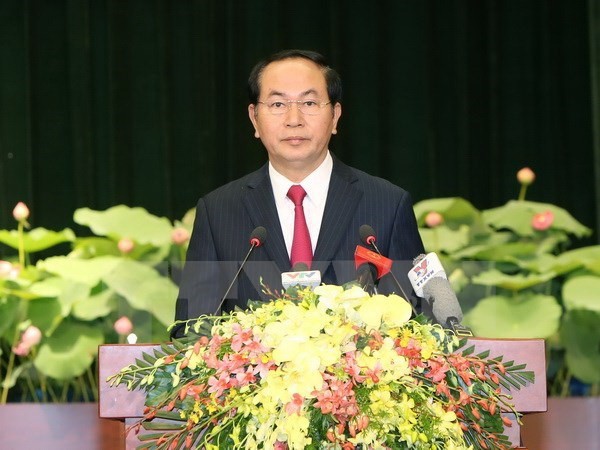 Tran Dai Quang speaks at the ceremony (Source: VNA)
The State leader gave the suggestion at a ceremony held in the city on July 2 to mark the 40th anniversary of the day Saigon-Gia Dinh city was officially named after the late President Ho Chi Minh.
He highlighted great achievements made by the city over the last 40 years, especially in economic growth expansion, investment attraction, and urban management and development.
He praised efforts of the city's Party organisation and authorities in fostering creativeness, and taking measures to overcome difficulties and challenges to reap important successes across the board, importantly contributing to the national reform, construction and defence.
According to the State leader, the municipal authorities have always attached importance to keeping a balance between economic growth and cultural development, while promoting social advancement and equality.
The city also made remarkable improvements in education-training, health care, sci-technology, social security, and the administrative reform.
He asked the city to fully tap its creativeness and initiatives in order to build the strong Party organisation towards creating a synergy between the whole political system and people.
He also underlined the need for the city to enhance international cooperation and intensify scientific research and technological applications.
In his speech, Secretary of the municipal Party Committee Dinh La Thang spotlighted the city's huge achievements in economic development.
The city's economic scale has expanded strongly, reaching 975 trillion VND (over 43.8 billion USD) at present from over 2.5 billion VND (112,500 USD) years ago.
Citizens earn an average per capita income of 5,538 USD per year by the end of 2015, up 73 percent compared to the level reported in 2010. The gap in the standard of living among population groups has been narrowed to 6.6 times in 2014 from 10 times in 1992.
Thang pledged that the authorities will proactively propose appropriate policies and mechanisms for its development targets as well as generating a driving force for the development of the entire southern region and the whole country as well.
He added that the city will strive to become a major centre of economics, finance, commerce and sci-technology in Southeast Asia by 2020.-VNA