The Ho Chi Minh City Viet Nam-UK Friendship Association (VUFA) held its inauguration ceremony on May 11, 2006.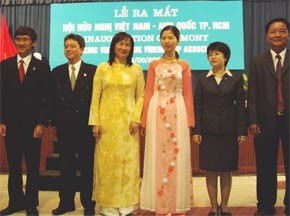 The association's executives pose for pictures (Photo: Tuong Thuy)
The association became the newest member of the Ho Chi Minh City Union of Friendship Organizations. It is set up to further enhance the friendship and cooperation between the peoples of Ho Chi Minh City and the UK.
The VUFA chairman is Mr. Huynh Ngoc An, former Ambassador to the UK. The two deputy chairmen are Mr. Nguyen Thanh Son, Vice Rector of the Ho Chi Minh City University of Technology, and Mr. Tran Hung Viet, Deputy General Director of Saigontourist Holding Company. The General Secretary is Ms. Ngo Thi Phuong Thien, chief of the Department of Culture Studies, Faculty of English Linguistic and Literature, the Ho Chi Minh City of Social Sciences and Humanities.
Mr. An said, "We hope the establishment of VUFA will further promote friendship and common understanding between the people of Ho Chi Minh City and Britain."
"Let me disclose here our plan to host a Vietnamese-British Cultural Day in Ho Chi Minh later this year. You will be most welcomed to join us."
"In connection with the 80th birthday of Her Majesty Queen Elizabeth, on behalf of VUFA, allow me to convey our warmest greetings to their Excellencies the British Ambassador and Consul General and to all our British friends," said Mr. An.
British Ambassador to Vietnam Robert Gordon said, "The launch of the association comes on a very special year for us, when we are marking the 80th birthday of Her Majesty Queen Elizabeth."
"The association has an important role to play in introducing more of our Vietnamese friends to our country, its language and its people," Mr. Gordon said.