Over 1,000 overseas Vietnamese from 15 countries and territories attended a meeting held in Ho Chi Minh City January 16 to celebrate Tet.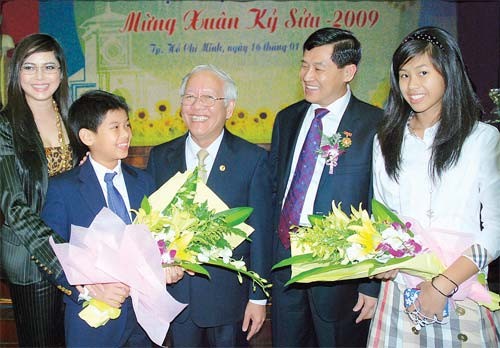 HCMC People's Committee Chairman Le Hoang Quan meets with the family of Jonathan Hanh Nguyen. (Photo: SGGP)
The meeting was held by the HCM City Committee for Overseas Vietnamese Affairs. It was also attended by the City People's Committee chairman, Le Hoang Quan; the City People's Council chairwoman, Pham Phuong Thao; and a representative of the HCMC Fatherland Front Committee.
 
Addressing the gathering, Mr. Quan informed the overseas Vietnamese of the achievements gained by the city and the country last year, saying that such achievements were partly the result of their contribution.
Despite problems in the world economy, foreign remittance by expatriates via the city's banking system amounted to $5.5 billion last year, a year-on-year growth of 52.8 percent.
The number of overseas Vietnamese entrepreneurs returning to the country for business is on the rise. Last year, over VND2 trillion ($115 million) was invested in the city, said the Committee for Overseas Vietnamese Affairs.
It proves that the Party and government always create favorable conditions for Vietnamese expatriates to take part in all activities in the country and contribute to its development.   
On behalf of Vietnamese living in foreign countries, Jonathan Hanh Nguyen, a Vietnamese expat who has done business in Vietnam for 20 years, praised the government's open and sound policies which have facilitated overseas Vietnamese's investment in their homeland.
He also thanked Vietnamese officials for their warm sentiments and welcome for overseas Vietnamese who have returned to Vietnam to celebrate Tet.
On this occasion, the city People's Committee presented six certificates of merit and two HCM City badges to Vietnamese expats who have made great contributions to the city's socio-economic development and to the development of solidarity among overseas Vietnamese communities in the city and abroad.