Now that the Vietnamese Government has approved general urban planning for Ho Chi Minh City until 2025, the city's Department of Urban Planning and Architecture will submit an adjusted urban planning map in March 2007, said the department's director.
Mr. Nguyen Trong Hoa, speaking at a meeting with reporters on Saturday, said the map, based on the Government's approval, would be submitted to the Ho Chi Minh City People's Committee.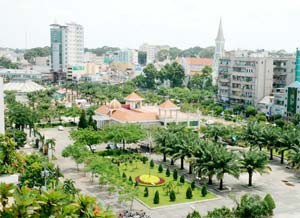 A part of September 23 Park in Ho Chi Minh City's center (Photo: SGGP)
Among the 70,000 hectares of urban land, the 1/2000 detailed zoning and planning has been available for 34,000 hectares and the rest will be available by mid-2007, according to the department.
Mr. Hoa said his department would submit to the People's Council a new urban zoning way in which consultants will be engaged for zoning and planning, and then such plans will be auctioned to mobilize the budget for the development of areas like Saigon South, an entire sub-city, in the city.
Regarding the city's future center, Mr. Hoa said a 1/500 detailed zoning map for the heart of the city would come out by the end of next year.
He added his department would in the next few days submit to the People's Committee an adjusted zoning map for the current center. In the map is the 1/2000 detailed planning for the expanded center covering 930 hectares, including September 23 Park near Ben Thanh Market, the Riverside in District 1, and a commercial and service area.
After that, four to six months are needed for auctions to select international consultants.
At present, construction of buildings with more than eight floors and other structures are discouraged on streets Ham Nghi, Le Loi, Nguyen Hue, Le Duan, Pham Ngoc Thach and in the September 23 Park quarter.