The November CPI in HCM City declined by 0.69 percent from October, reports the Ho Chi Minh City Statistics Department.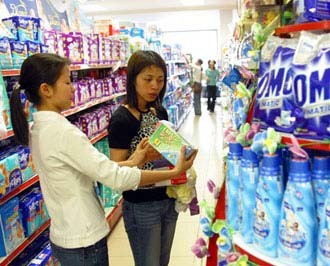 Consumers purchase goods at a supermarket (Photo: Tuoi Tre)
The month's performance has helped the CPI of the Jan-Nov period increase by 18.58 percent year on year, said the department.
The month's steepest CPI decline in November, at 8.67 percent, was seen in foodstuff due to a sharp fall in rice prices, while an overall drop of 5.66 percent was recorded in house prices, building materials, electricity and water. Transport and telecom charges went down by 4.15 percent.
Meanwhile, the price index of vegetables and fruits soared by 22.3 percent from October, due to bad weather, including recent storms and flooding.
This is the second consecutive month that the city's CPI has declined, but compared to the same period last year, it still posted a rise of 23.16 percent.