Ho Chi Minh City has made great efforts to achieve socioeconomic development since 2006 and the results are showing now, Party Committee Secretary Le Thanh Hai said at a committee meeting that ended yesterday.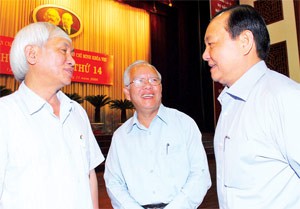 City leaders at the meeting (Photo: SGGP)
Despite inflation and volatility in the stock, banking, finance, and real estate markets, the city achieved 15 out of the 20 targets for this year -- like increasing exports, gross capital formation, and reducing poverty – he said.
 
The city's growth rate hit 11 percent, an increase of 1.6 times compared to the country's.
 
Mr. Hai said 17,000 companies were established this year with a total registered capital of VND108.5 trillion (US$6.4 billion) and the city attracted $8.2 billion in foreign direct investment, 4.25 times up from last year, proving it remains an attractive investment destination.
 
But he warned that things could become more difficult next year, especially for the export and tourism sectors and attracting FDI, since the city is integrating quickly and deeply with the global economy.
 
Since it would be affected by the international economic and financial crises, it has to remain focused on the Government's tight money and thrift policies, he pointed out.
 
This would result in a fall in overseas investments flowing into funds, finance companies, and foreign banks, he explained.
 
To achieve the 20 socio-economic development targets next year, Mr. Hai said, the People's Committee has to work with ministries and other central agencies and banks, to provide credit and tax breaks to manufacturers, exporters, and customers of small and medium-sized enterprises.
 
The city authorities also have to find ways to ensure supply, improve distribution networks, fight fake goods and speculation, and tackle air pollution, traffic jams, and flooding.
The city's socio-economic targets for 2009

  - Growth rate of 10.5 percent
  - Export growth of 16.5 percent
  - Gross capital formation of VND130 trillion
  - Creating 270,000 jobs
  - Inflation to be contained at 15 percent.
  - 91.5 percent of households to be supplied clean water
  - Households with an annual income of VND12 million or less per member to be reduced to 13.8 percent by year-end