Ho Chi Minh City's economy continued to expand in the period from January to November with services and trade being major growth engines, according to the municipal People's Committee.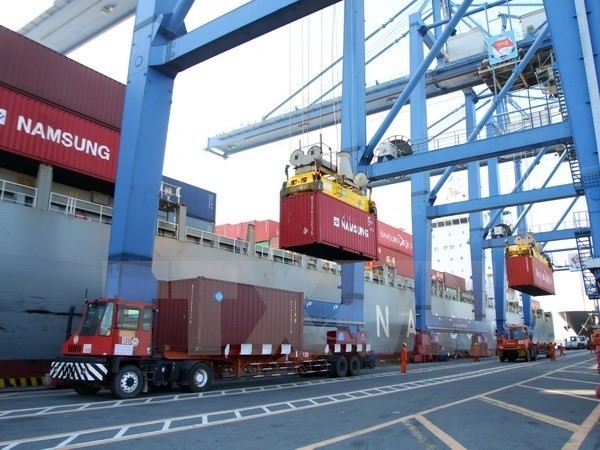 Containers are being unloaded at Cat Lai port in HCM City. (Source: VNA)
In the last 11 months, total retail sales and services revenue approximated VND 639 trillion (USD 28.1 billion ), a year-on-year rise of over 9 percent, Director of the municipal Department of Planning and Investment Su Ngoc Anh said at a regular meeting of the city administration on December 2.
He noted activities to promote investment promotion and improve the local investment climate have proved effective when domestic and foreign capital kept pouring into the city.
While nearly 33,000 businesses were set up with total charter capital of more than VND 266 trillion (USD 11.7 billion), 729 FDI projects worth USD 831.8 million were provided with investment registration certificates during the period.
Enterprises based in HCM City exported some USD 28.8 billion worth of goods, up 5 percent from a year earlier. Excluding crude oil, total value of overseas shipments is estimated at USD 26.5 billion, rising by 10.4 percent, the People's Committee reported.
The industrial sector grew by some 7.23 percent in the 11 months, compared to the same period of 2015. Particularly, the four key industrial sectors (mechanical manufacturing, electronics, chemical-rubber-plastics, food processing) increased by 7.36 percent.
The southern city posted tourism revenue of over VND 89.69 trillion (USD 3.9 billion) from January to November, up 7.23 percent from the previous year. It also recorded 4.58 million international arrivals, climbing 14 percent.
Chairman of the municipal People's Committee Nguyen Thanh Phong said the administration will press on with measures to support enterprises and better the business climate in the time ahead.
HCM City aims for 50,000 new businesses to be established in 2017.