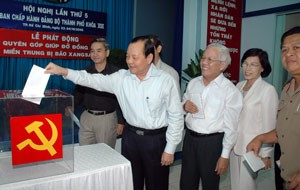 The city's party leaders donate money to the typhoon Xangsane effect relieving fund during the conference (Photo: Viet Dung)
Ho Chi Minh City's Party Executive Board started a conference on Tuesday with the aim of improving the Party's leadership in the southern hub high on the agenda. City Party chief Le Thanh Hai is presiding over the conference.
Many delegates shared the idea that the draft action plan by the Party Central Executive Committee, tenth tenure, should be more determined to crack down on corruption.
They said the proposed plan should discipline those who have recommended and promoted wrong officials, and should encourage managers to resign when corruption takes place in their organizations or localities.
Many are of the view that in a corruption case, after Party executives collect enough papers proving that Party members have made wrongdoings, they need to sanction the wrongdoers immediately, not waiting for police's conclusions. Besides, those who have sincerely spoken out wrongdoings and sought to minimize consequences are worth a less severe penalty.
In the first day, the conference also discussed measures to boost the city's overall development, including how to build more houses and apartments to improve city dwellers' living conditions in general.