A year on of Viet Nam's World Trade Organization accession, Ho Chi Minh City has made outstanding economic achievements on the way to thriving in 2008, if the city deals with some remaining shortcomings.
Impressive 2007 Performance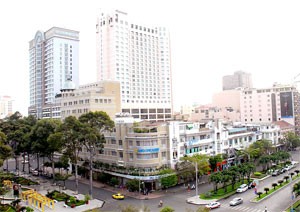 Ho Chi Minh City makes outstanding economic achievements in 2007
The city's economic growth reached 12.5 percent, highest in the past ten years. Services grew 14.1 percent.

International governments and enterprises visited the city seeking business opportunities and cooperation.

Some US$2.5 billion of foreign direct investment (FDI) was poured into the city, making HCMC one of the nation's three most attractive FDI destinations.

The number of overseas arrivals in HCMC hit 2.7 million, 70 percent of Viet Nam arrivals in 2007.

Retail chains like Saigon Co.op, MaxiMark and Satra grew flourished citywide while collaborating with neighborhood shops to increase market share.

HCMC processed foods, footwear and apparel makers like Vissan, APT, Kinh Do, Vinatex, Phuong Dong, Viet Thy, Vina Shoes, Biti's and Hong Anh saw their market shares broaden thanks to better quality and prices.

Handicaps to Contend With

The city's export growth reached only 15 percent, relatively low nationwide and short of the year's target.

An unidentified economist, however, explains away the city's lower export growth. First, the city is not strong in the country's ten key exports. Second, it has yet to develop or implement any far-sighted, wide-reaching plan for promoting export growth.

In terms of FDI and ODA receipts, the city did better than many expected, but it's said the city's mechanism still allows for a wide time lag between FDI/ODA receipts and their disbursement and implimentation.

Asian Development Bank Country Director Ayumi Konishi has repeated that the city should expedite the implementation of ODA-funded projects.

New Year's Resolutions

City Chairman Le Hoang Quan has pledged the city will solve its remaining limitations.

It will spend US$22 billion upgrading transport systems. Ongoing top-priority projects with upcoming completions scheduled include the Thu Thiem Bridge, the 12-lane East-West Road, the HaNoi-CatLai Highway, the Phu My Bridge and subway development planning.

Modern, international-class urban zones are being built to appeal to support investments from multinational companies. The Thu Thiem urban zone is to be built into a modern trading and finance center.