Ho Chi Minh City is set to become an industrial, service, scientific and technological hub in Southeast Asia by 2025, according to a revised master building and development plan for the city recently approved by Prime Minister Nguyen Tan Dung.
The development of HCM City will be carried out in harmony with that of its seven neighboring provinces: Binh Duong, Binh Phuoc, Tay Ninh, Long An, Dong Nai, Ba Ria-Vung Tau, and Tien Giang.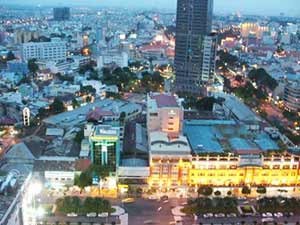 A view of HCM City, which aims to become a strong multifunctional hub in Southeast Asia by 2025 (Photo: smetac)
According to the plan, the city will expand in four directions with new developments covering 49,400 ha, including 13 inner-city districts, and six new districts, towns and urban centers. By 2025, the population in the area could reach around 7.4 million.
Districts 1, 3, Binh Thanh and part of District 4 will act as the administrative, cultural, tourist and service centers of the city. Modern urban zones will be set up, meanwhile, in the six other districts.
In addition, a scientific and technological center covering 800 ha will be built in districts 9 and Thu Duc.
The city also plans to earmark 43,600 ha in its suburban districts for agricultural production and ecological belts.
Authorities will minimize urbanization in agricultural and forestry zones and ban construction in safety corridors along three rivers: Saigon, Dong Nai and Nha Be.
The development plan includes the building of 19 bridges across these three rivers and others like Long Tau and Thi Vai.
Urbanization will also be banned in Can Gio mangrove forest, preventive forests and forests of special use in Binh Chanh and Cu Chi districts.
In addition, several railway routes will be constructed, including those leading to Hiep Phuoc and Cat Lai ports.