There are many opportunities for HCMC and Japanese localities to boost the cooperation relationship and the city will always accompany foreign investors including Japanese firms, affirmed HCMC party leader Dinh La Thang.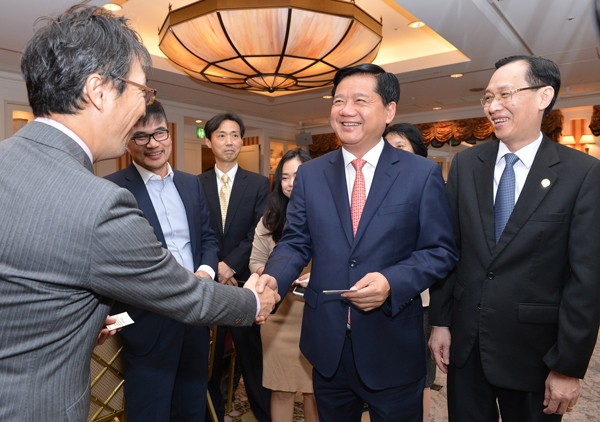 HCMC party chief Dinh La Thang meets Japanese businesses (Photo: SGGP)
He was speaking in an interview with Sai Gon Giai Phong Newspaper after leading a HCMC high ranking delegation in a working visit to Japan from April 6-15.

As of March 31, Japan has 1,007 valid projects licensed in HCMC with registered capital totaling US$3.55 billion, ranked 4th out of 87 countries and territories investing in HCMC after Singapore, British Virgin Islands and Malaysia.

According to Mr. Thang, the strategic partnership relationship between Vietnam and Japan has developed strongly and comprehensively in many fields with a high political belief.

This year, Japanese Prime Minister Shinzo Abe conducted an official visit to Vietnam in January. For the first time, the Japanese emperor and empress arrived in Vietnam for a March state level visit.

The visit is considered as a landmark playing special significant role and creating a motive power to foster the two countries' relationship in the upcoming time.

At present, Vietnam and Japan are working closely to prepare for a coming official visit to Japan by Vietnamese Prime Minister Nguyen Xuan Phuc.

HCMC has been glad to contribute to the two countries' relationship by luring most investment from Japanese firms to Vietnam for large scale infrastructure projects with the outstanding one being Ben Thanh-Suoi Tien metro line.

The city has also implemented lot of cooperation projects with Japanese localities. That is an outstanding example for the dynamism and efficiency of the friendship relationship between HCMC and foreign localities.

Aside from that are people-to-people and cultural exchange activities between the two sides.

The HCMC high ranking delegation has seen its ten day visit to Japan successful, received by the secretary general of the Japanese Liberal Democratic Party, the Chief Cabinet Secretary of Japan, the Minister of Foreign Affairs and the Minister of Land, Infrastructure, Transport and Tourism.
During the trip, the delegation visited and worked with many Japanese localities including Osaka on the occasion of the 10th and 20th cooperation anniversary between HCMC and Osaka province and Osaka city.

Besides they met and talked to leaders of some other provinces and cities of Japan, representatives of Japanese economic organizations and businesses to boost cooperation especially in fields of infrastructure development, traffic, tourism and hi-tech which HCMC has paid much heed to and faced many difficulties and challenges.

Within the framework of the trip, HCMC organized trade, investment and tourism promotion activities in five provinces and cities namely Osaka, Tokyo, Hyogo, Aichi and Nagano. Of them, the events in Osaka and Hyogo introduced projects calling for investment in HCMC together with the city's potentials and advantageous conditions for investment and tourism.
The conferences also worked toward creating opportunities for the two sides' businesses to seek partners through trade connectivity operations, market surveys and visits to industrial parks and hi-tech agricultural zones.

Japan's rise to top investor in HCMC possible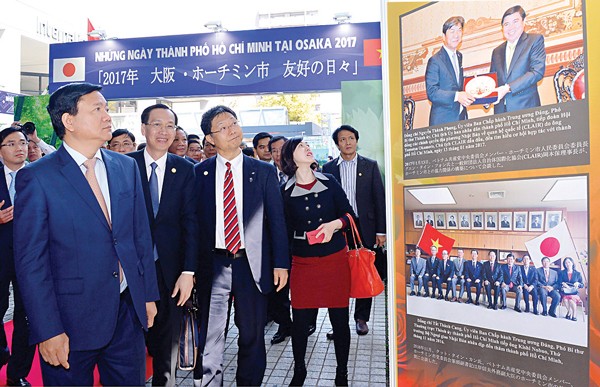 Mr. Thang visits an exhibition at HCMC Days in Osaka 2017 (Photo: SGGP)
At meetings and working sessions during the trip, the two sides believed that Japan's attempt to become the top investor in HCMC is totally possible and they have potentials and strengths to supplement and support each other to obtain the target.

HCMC commits to going on efforts for a transparent investment environment and facilitating foreign investors' operation in the city, making it an ideal destination for Japanese firms.

The commitment also aims at raising resources for the city to carry out seven breakthrough programs in the resolution of the 10th HCMC Party Congress and materialize the purpose of a civilized, modern and humane city.

HCMC has been attracting investment under public private partnership (PPP) model for socioeconomic development with 20 projects having been signed and implemented with the total funds of VND67 trillion (US$2.95 billion) mainly in fields of traffic and environment.

The city is now calling upon investors for an extra of 95 PPP projects with the total capital of VND121,433 billion ($5.4 billion).

Social resource mobilization through PPP form is an obligatory requirement for HCMC which is in a huge need of funds to carry out the city's seven breakthrough programs. The city could not only look forward to budget capital or official development assistance (ODA) source.

PPP model has been successfully applied in Japan so Mr. Thang believed that with Japanese experiences and enthusiastic and since invitation by HCMC, many projects in the city will draw attention by Japan and other countries and soon be implemented in the upcoming time.

Further administrative reform expected

Via the visit to Japan and working sessions with Japanese localities and businesses, Mr. Thang recognized that Japanese investors appreciated HCMC's efforts to improve business environment as well as incentives for investors.

However, they hoped that the city will continue improving business environment, intensifying preferential policies and further administrative reform to encourage investors and meet development requirements in the upcoming time.

In fact, these are things which the city found needed to be promoted with the deep awareness that a good business environment will comprise not only incentives and attractive policies but also timely accompaniment, sharing and support by city leaders' to help businesses cope with difficulties.

The municipal authorities pledged to do their best to ensure socio-political stability, protect legitimate rights and benefits of investors and facilitate steady and efficient operation of foreign companies in general and Japanese in particular in long term.

They considered successes of foreign firms as their, Mr. Thang said.

Related articles:
HCMC invites Kansai investors to three key fields
Municipal authorities create favorable conditions for Japanese investors
City delegation visits PPP projects in Japanese Aichi
City leader proposes Japanese firm to speed up metro line
HCMC calls for speeding up Xuyen Tam Canal Upgrade Project
HCMC asks for help from Japan's wastewater treatment technology
JICA willing to cooperate with HCMC in public private partnership
HCMC high level deputation starts ten day visit to Japan