Ho Chi Minh City of Viet Nam and Yokohama of Japan possess great potential for cooperation, said HCMC mayor Le Hoang Quan on Monday.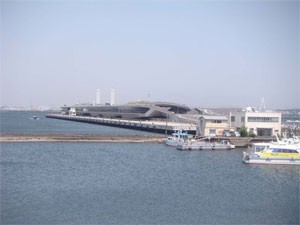 Osanbashi Pier is the main international pier at the Port of Yokohama, Japan.

A Vietnamese delegation of municipal leaders and businesses led by Mr. Le Hoang Quan is visiting the largest incorporated city and second largest urban area after Tokyo to study cooperation opportunities there.

The two cities have many things in common: a large population and large sea ports, and both are commercial hubs; thus bilateral ties in the areas of trade, tourism, investment, and culture are quite feasible, the HCMC People's Committee Chairman said.

Yokohama vice mayor, Yamiko Noda, shared the same view, adding that at the moment only 20 Yokohama firms are investing in Viet Nam, which had not fully tapped both sides' potential.

Yokohama is heading towards more diversified economic relations with other countries, including Viet Nam, in the next two years; the city-based Haneda airport will open direct flights from Yokohama to HCMC in the near future, she said.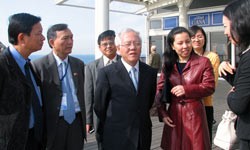 Chairman Le Hoang Quan ( second, R) visits Umihotaru island in Tokyo Aqua-Line
Previously, the Vietnamese delegation paid a visit to the Port of Yokohama, the largest of its kind in Japan. The port can serve ships capable of carrying up to 200,000 tons of cargo. Yokohama Port has ten major piers, and is the meeting point for 100 international nautical routes.