Secretary of the HCMC Party Committee Dinh La Thang yesterday afternoon hoped that the Japanese Ministry of Land, Infrastructure, Transport and Tourism (MLIT) would help treat wastewater by introducing businesses or transferring technologies in the field to HCMC.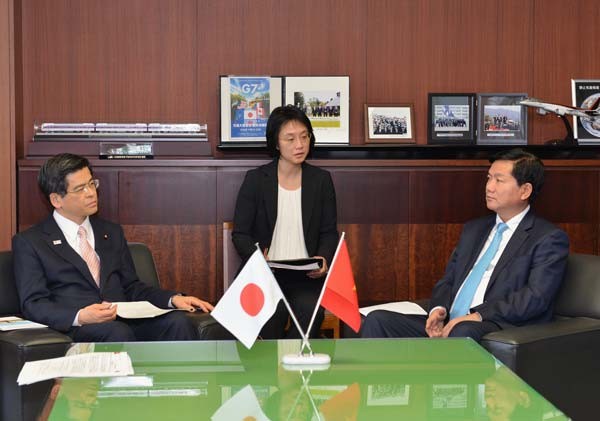 Minister of Land, Infrastructure, Transport and Tourism Keiichi Ishii receives secretary of the HCMC Party Committee Dinh La Thang on April 7 (Photo: SGGP)
He was speaking while paying minister Keiichi Ishii a courtesy visit during a HCMC high level delegation's ten day visit to Japan.
At the meeting, Mr. Thang affirmed that HCMC appreciated Japanese Government's assistance in the first and second phases of the water environment improvement project in the valley of Tau Hu-Ben Nghe-Doi-Te canals. The project has much improved the city's environment and landscape.
However, under influence of climate change, HCMC still have many flooded spots after heavy rainfall or high tides. Therefore, the municipal authorities have paid much attention to urban drainage to mitigate flooding in the city.
Minister of Foreign Affairs Fumio Kishida talks to Secretary Dinh La Thang (Photo: SGGP)
HCMC expected MLIT to assist the city's authorized agencies, especially Steering Center for Urban Flood Control Program, to improve cadres' ability, access the Japanese Government's financing sources to implement anti-flooding projects, install and build rainwater drainage systems.
Secretary Dinh La Thang and Minister Keiichi Ishii agreed that the two sides should strengthen cooperation in training, human resource development in construction and other potential fields such as transit-oriented development, smart traffic system, seaports, anti-flooding and wastewater treatment.
In addition, they would further joint action and exchanges, people-to-people relations and tourism between HCMC and Japanese provinces and cities in the upcoming time.
On the same day, Mr. Dinh La Thang paid courtesy visits to Minister of Foreign Affairs Kishida Fumio, Chief Cabinet Secretary Suga Yoshihide and received special adviser to the Japanese Prime Minister Iijima Isao.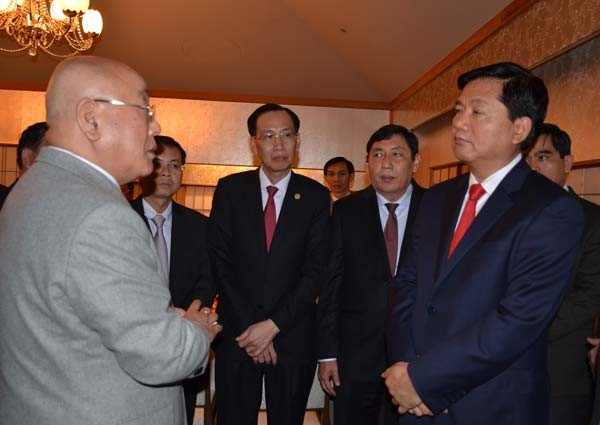 HCMC party leader receives special adviser to the Japanese Prime Minister Iijima Isao (Photo: SGGP)