Leaders of Ho Chi Minh City's People's Committee traveled to Copenhagen, Denmark last weekend for the 15th United Nations Climate Change Conference (COP15) taking place from December 7-18.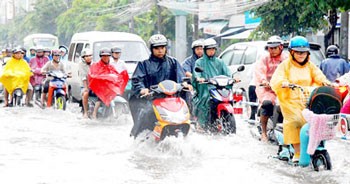 Heavy rain causes flooding on Minh Phung Street in District 11. (Photo:Sggp)
HCM City is considered one of the most vulnerable places in the world to the impacts of climate change.
Rainfall in the southern hub has increased by 20 percent since 2007 along with more frequent and stronger storms since 2006. The rainy season has also come earlier over the last few years, said Le Thi Xuan Lan, deputy head of the Southern Meteorology and Hydrology Forecasting Center.
Climate change and urbanization are causes of the severe weather, she added.
Flood tides in HCM City increase incessantly each year and were recently measured at 1.58m, the highest level in the last five decades. The tides submerge many areas in the city, especially Binh Quoi area in Binh Thanh District and Hiep Binh Phuoc area in Thu Duc District, which can be submerged up to 0.5 meters.
The city is also getting hotter. The number of days that temperatures have hit 35ºC or above continues to increase.
The HCM City delegation will attend the climate change conference to exchange knowledge and learn methods of adaptation to the problem of global warming. They will also forge cooperation opportunities with other countries to train officials and develop technology to combat climate change.