A meeting between HCM City People's Committee and business leaders was held March 5 to find solutions for businesses to gain low interest loans and sell their products.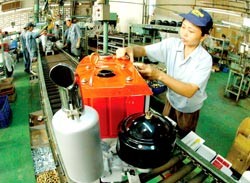 The Southern Agriculture Machinery Co. – VIKYCO in Dong Nai Province has exported its products to over 20 countries. (Photo: Duc Thanh)
The price of much machinery has been reduced by 30 to 50 percent, which offers businesses a good opportunity to renew technology.
At present, 90 percent of small to medium sized businesses have out-of-date or inadequate technology. With such poor machinery firms struggle to compete, Deputy Director of the Department of Trade and Industry Truong Trung Viet has said.
Up to now, the Department has received applications from 122 businesses and co-operatives to borrow loans with preferential interest. The total capital that these businesses want to borrow is about VND6 trillion ($353 million).
Around VND3.2 trillion ($188 million) will be used for production and VND2.75 trillion ($162 million) to renew technology and broaden production.
Loans for new technology are medium to long-term, while the government's four percent interest assistance is for the short-term.
Banks have either limited or stopped providing medium and long term loans, so many businesses that want to renew technology cannot access the capital, Viet said.
The government should adjust the borrowing time limit, Huynh Van Minh, Chairman of the HCM City Enterprise Association said.
From the fourth quarter in 2008, the price of goods has dropped considerably; many businesses are unable to sell goods to pay back high interest loans. As they have not repaid old debts, they do not qualify for low interest loans.
Businesses are unable to enjoy the preferential interest loans, he said.
Minh proposed the government permit businesses to borrow with new interest rates to pay old high interest loans.
Deputy Chairman of HCM City People's Committee Nguyen Thi Hong agreed with Minh, she said when the basic interest increased, banks immediately increased interest rates. Now, it has been reduced, banks should follow suit.
The chairman of HCM City People's Committee, Le Hoang Quan, asked officials from the Central Bank to ask the government to liquidate old high interest loan contracts so that businesses can borrow capital with low interest.
Assistance for production and selling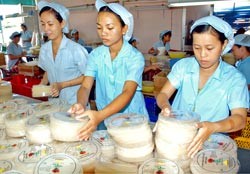 Workers in a trade village, producing girdle cake in Cu Chi District, HCM City, which provides jobs for thousands of people. (Photo: SGGP)
There is capital to loan, but it has to be lent clearly, publicly and timely, the city deputy chairwoman said.
The HCM City People's Committee had announced its decision 20/2009/QĐ-UBNDTP on February 27 to assist businesses with 100 percent of interest payments for investment projects in the city, including projects of all businesses from other provinces.
Projects on investing new construction, broadening the scale and renewing technology and equipment will be allowed to borrow capital.
Businesses that have capital for production are struggling to sell their goods in the country while the number of exports has also declined.
A representative of the garment industry said exports have sharply declined. The number of high-grade products to the US has fallen by 50 percent and total orders reduced by 20 to 30 percent compared with last year.
The city chairman has asked the Ministry of Industry and Trade to find the untapped markets for products. He suggested the Ministry should encourage Vietnamese to buy Vietnamese goods.
Officials from the Ministry proposed that the central government organize more fairs to showcase Vietnamese goods.
The city also asked the central government to push trade promotion, assist with 100 percent of costs for businesses participating in the fairs and reduce air tickets and hotel fees to attract foreign people to visit, research the business environment and sign contracts.
The city handed over a petition to central ministries and departments to establish a center to research and forecast market information and permit local authorities to establish a fund to reserve materials for production at the time the price of goods on the world market is low.