The Ho Chi Minh City People's Committee has asked districts to take measures to prevent landslides and flooding during high tides in the city.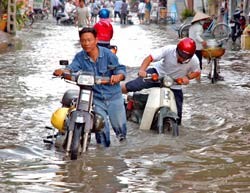 High tides flooded D2 Street in Binh Thanh District, HCMC in November 2008
The first tide of the month rose in the afternoon of November 4, inundating District 2, and Thu Duc and Binh Thanh districts.
Kha Van Can and 25 streets in Thu Duc District, and Xo Viet Nghe Tinh and Ngo Tat To streets in Binh Thanh District were submerged under about 30-40 centimeters of floodwater, with some areas inundated under over 50 centimeters.
According to the Southern Regional Hydro Meteorological Station, the floodwater levels were 1.48 meters at Phu An station on the Sai Gon River, nearly reaching warning level 3 of 1.5 meters, and 1.45 meters at Nha Be station.
 
The station forecast this month's tides will be higher than in 2008 and 2009, and last to November 10.
The crest of tides will appear from 2 to 8 am and 3 to 8 pm every day, the station said.