The Department of Natural Resources and Environment in Ho Chi Minh City sped up infrastructure system to control environment quality in line with its set target to 2020.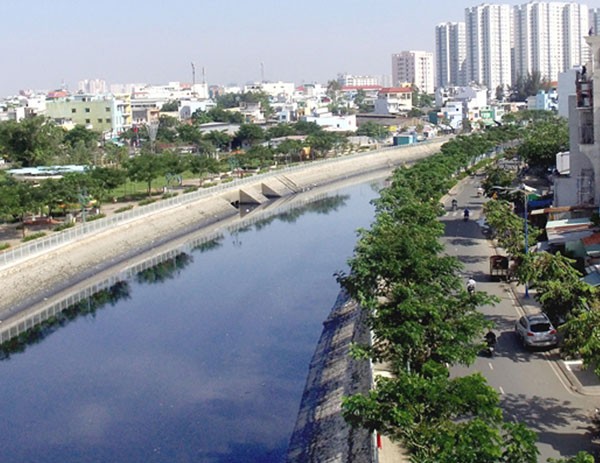 Tan Hoa- Lo Gom Canal in HCMC (Photo: SGGP)
Currently, the total of waste from daily activities in the city reaches 7,500 ton a day, an increase of 15 percent compared to same period last year. The city has seen year-on-year increase about waste yet most of waste are now treated by burying. This forced administrators to allocate the landfill.
Additionally, burying waste produced stench, water leaks from landfill sites has raised some environmental concerns; for instance Da Phuoc landfill site has created health hazards to people and reduced the investment environment's attraction in the city's district 7.
Accordingly, the Department adopted synchronous measures in a bid to reduce waste and deploy modern waste treatment technology. It is scheduled in the second quarter, the city will classify waste. Those who generate waste are responsible for classifying their waste into different waste classes. The classification of waste will be carried out in long-term plan.
Australia's Trisun Green Energy Co. has been given a permission to conduct a US$520 million waste-to-power plant in Cu Chi District's Phuoc Hiep Ward. The 13ha plant is expected to treat 1,000 tons of households waste produced a day and 1,000 tons of hazardous and industrial waste a day.
Before, the city administration gave the green light to waste plant that generates electricity invested by Ho Chi Minh City Urban Environment Company (Citenco) and Japanese Hitachi Zosen in Phuoc Hiep Ward in Cu Chi District.
At present, the two companies have asked for permission of a new waste plant deploying gas technology with the capability of 1,000 tons a day. It is expected that when plants are operational, the rate of buried waste will decrease from 90 percent to 60 percent.
Director of the Department Nguyen Toan Thang said that in addition to measures to handle waste, the city will also construct infrastructure to control pollutants. At first the Department will finish the monitoring system of air and waste water in 2017.
Moreover, the authority will force those who generate waste water over 1,000 cubic meters per day to install automated monitoring system. Each system will be connected with the department's information receiving system to help related agencies update information regularly as well as prevent enterprises from secretly discharging waste water into environment.
At a meeting on the plan for environment protection lately, Deputy Chairman of People's Committee Le Van Khoa said that environmental pollution not only makes HCMC's investment less attractive but also badly affect people's living condition. Accordingly, the authority will speed up the programs of classification of waste soon.