Construction of the Vietnam National University Student Hostel began October 16 in Ho Chi Minh City's Thu Duc University Village. Once completed in 2011, the dorms will be capable of housing 60,000 students said officials.
The country's largest dormitory, with total investment of VND2.9 trillion (US$160 million), will span 58.8 hectares and be divided into two sections.
One of the areas will house from 10,000-20,000 students on a total of 20 hectares.
The other area will comprise 32 buildings from 12-16 storeys on a total area of 38.8 hectares, housing 40,000 students in Thu Duc and Di An districts, Binh Duong Province.
In addition, the project will include auxiliary works such as a hospital with 500 beds, theater, supermarket, and bus station.
The additional works are expected to cost VND1.78 trillion and will call for investment from multiple organizations.
The dorms will aim to meet demand for student housing at the Vietnam National University and other universities northeast of the city.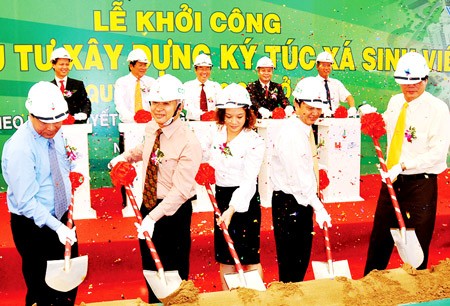 Delegates take part in a ceremony for Vietnam's largest dormitory at Thu Duc University Village, Ho Chi Minh City on October 16. (Photo: SGGP)
Attending the ground-breaking ceremony were Deputy Minister of Construction Nguyen Tran Nam, Standing Deputy Chairman of the city People's Committee Nguyen Thanh Tai, Chairman of the Binh Duong Province People's Committee Nguyen Van Hiep, and representatives from Vietnam National University – Ho Chi Minh City.
Speaking at the ceremony, standing Deputy Chairman of the city People's Committee Nguyen Thanh Tai said the project is a key part of Government goals to develop student housing in the city from 2009-2011.
He also said that investors, construction and supervision units must implement rules to ensure quality and timely progression of the project.
At the ceremony, Nguyen Van Chien, General Director of General Construction Company No.1, granted VND300 million ($16,000) to the Vietnam National University - Ho Chi Minh City Development Fund, the city's Study Encouragement Fund and a fund for the poor in Binh Duong Province.