Two workers were seriously burned April 9 when an explosion occurred in the basement of a 16-floor office building under construction in Ho Chi Minh City's District 1.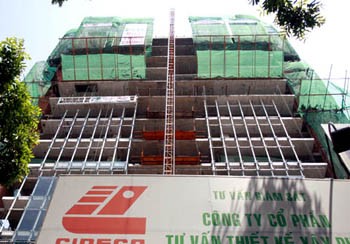 A view of the office building under construction at 25 Bis Nguyen Thi Minh Khai Street in District 1, HCMC. Two workers were badly injured when an explosion occurred in the basement area on April 9. (Photo: VnExpress)
The victims, Dinh Quang Tuyen, 30, from Kien Giang Province and Ho Van Hai, 56, from Long An Province, were working in the basement of the building when the explosion occurred, engulfing the area in flames.
The two were left unconscious from the blast and rushed to the city's Cho Ray Hospital.
Doctors said Tuyen and Hai had received third-degree burns to more than three quarters of their bodies, while their respiratory tracts had also been badly injured.
According to initial investigations, authorities believe the explosion might have resulted from a high accumulation of methane gas (CH4) in the basement. The gas is thought to have caught fire from a burning cigarette or from the machinery being used at the area.
Ta Hoai Nam, chairman of HCMC's Ben Nghe Ward, said that authorities have asked the building's investor, the HCMC Housing Management and Trading Company and the contractor, Construction Company No.14, to temporarily stop construction of the office block.
Police are continuing to investigate.