A project started in 2013 aims to build 2.7 million square meters of low-income housing between 2012-2015.  It will provide housing to low-income citizens, dormitories for students, and lodging for workers.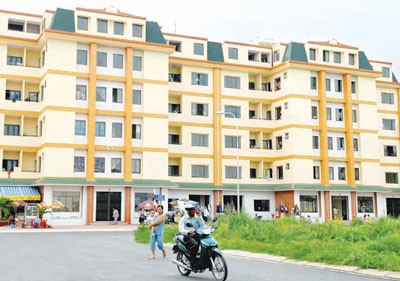 An apartment condo built in District 12 in HCMC (Photo: SGGP)
This is a project of the Joint Programming Initiative signed by Prime Minister Nguyen Tan Dung, the Ministry of Construction, and HCMC's People's Committee. The Initiative aims to implement a national housing strategy by 2030.
In 2013, the city constructed over 8 million square meters of social housing.  It will increase the average living density to 16.4 square meters per person.
The city's "To Exchange Land for an Apartment" program established high-rise buildings to alleviate overcrowding of land. 
The new 17.2 hectare resettlement area An Phu-Binh Khanh in District 2 and Phu My residential block in District 7 provides an additional 8 million square meters of living space.
In 2010 the city gave Duc Khai Construction Company 110,000 square meters of land to build over 3,000 apartments in the Phu My residential block in District 7.  The apartments were built with an investment of VND 5,500 billion (US$2.6 million). The company completed 470 apartments in the first stage with VND 9 million per square meter.
Thanks to the preferential policies, such as no payment for land use and no bank loan, the company can complete construction at little cost, said Director of Duc Khai Company Pham Ngoc Lam.
The city has approved an additional 25 low-income housing projects. These will provide about 1.75 million square meters of living space.
The construction of additional housing still does not meet the drastic influx of state-run employees and people in the army, said Director of Department of Construction in HCMC Tran Trong Tuan.
The city experienced an influx of housing demand after the Circular No.34 decision enabled foreign Vietnamese to easily obtain property. So pressure on more social houses in the city is very huge.

However, the government has implemented plans to control inflation, guarantee social welfare, and cutting investment in public construction.
The guidelines will focus on key constructions rather than loosely investing in all resulting in limited state budget. Meanwhile, policies are not favorable for investors therefore it is hard to get funding. Despite of these above-mentioned difficulties, the city strived to construct 3,000 apartments in 2013 to satisfy housing demand for low-income households.
An influx of people moved to Dong Hung Thuan apartments in District 12 and Hoang Hoa Tham apartments in District 10 for the New Year.
The city will build additional low-income housing in the future, said Tuan.
The Ministry of Construction in coordinated with central agencies, ministries and local authorities to successfully develop and implement five national housing development programs: program supporting the poor to own a house, the residential cluster building program in Mekong Delta flood zone, housing for students program, housing for workers in industrial zones program, housing for low-income people program.
Le Quang Hoa, an employee of Youth Volunteer Protection Service Company, lives in a flat No.10.8 of To Hien Thanh Condo in District 10. He moved into the apartment in August, 2013. Hoa is satisfied because he and his wife earn total of VND 10 million (US$475) a month to feed two children.  They would normally not be able to afford an apartment.  He paid VND 130 million (US$ 6,172) in advance for his 53.4 square-meter apartment.  The total cost of the place is VND 650 million (US$30,864) which he will pay within the next 15 years to reduce mortgage payments to VND 6 million per month.