Mien Dong Bus Station in Ho Chi Minh City hauled up a bus operator January 12 for increasing fares during the week before Tet (the lunar New Year) next month by 200 percent.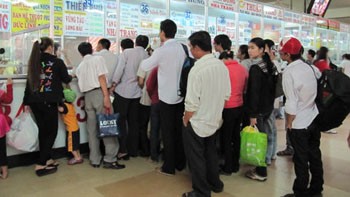 People wait to buy bus tickets at the Mien Dong Bus Station in HCMC. The station has suspended a company for hiking fares ahead of Tet by 200 percent (Photo: Vietnamnet)
Tran Hoa General Transportation Service Company, which operates buses to Quang Nam, is not allowed to sell tickets for the period from February 7 to 12. The New Year is on the 14th.
It can continue to sell tickets for other days.
The normal fare for a trip from HCMC to Quang Nam is VND200,000.
Three days ago the company decided to hike the fare to VND500,000-600,000 for travel during the week before the New Year.
The company could face further sanctions with the bus station's director, Nguyen Ngoc Thua, saying the case would be reported to the Department of Transport with a recommendation for strict action.
According to the bus station's regulations, operators are only allowed to increase fares during Tet by 40 to 60 percent.
All provinces and cities to which buses ply from his bus station have been informed of this rule, he said.
But some, including Quang Nam, may not have received the communication yet, he admitted.